The Knowledge > Recipes >
Monday, 23rd April 2012
Coconut chicken
Juicy, tender Coconut chicken
By LA Muscle on 23.04.2012 12:23 pm
Ingredients: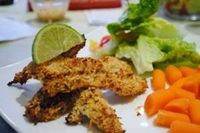 113g of shredded coconut
140g of boneless skinless chicken breasts cut into strips
1 teaspoon of chilli flakes
1/2 teaspoon of paprika
1/2 teaspoon of oregano
1/4 teaspoon of thyme
1 tablespoon of olive oil (can be substituted with any other oils)
The juice from 1 small lime
Salt and pepper to taste
Directions:
1. Mix together the coconut and spices (except salt and pepper) in a bowl
2. Mix together the olive oil and lime juice in a separate bowl
3. Place the chicken pieces into the oil and lime juice mix
4. Place the chicken pieces into the coconut and spices bowl and mix it together
5. Bake in oven at 180 degrees Celsius for about 18-20 minutes
6. Serve and enjoy!
Nutrition:
Calories: 550 kcal
Protein: 40g
Carbohudrates: 22g