The Knowledge > Recipes >
Tuesday, 27th March 2012
Baked Apple Meringues
A delicious treat with no saturated fats and easy to make
Ingredients: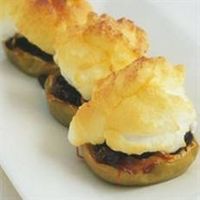 2 medium Bramley apples, washed and cored (no need to peel)
4 large egg whites
Grated zest and juice 1 orange
110 g raisins
10g granulated sweetener
A little butter for greasing
Pre-heat the oven to gas mark 5, 375°F (190°C).
Directions:
1. First mix the raisins and the orange zest and juice in a bowl and then leave them to soak for about 30 minutes.
2. Meanwhile, using a sharp knife, cut each apple in half horizontally, arrange the halves on the baking tray and pop them on to the centre shelf of the oven for 30 minutes. After that, slide the shelf half out, spoon the soaked raisins over each apple half and bake for another 15 minutes.
3. Towards the end of that time, place the egg whites into a grease-free bow and, using an electric hand whisk, whisk them until they form soft peaks that just tip over when you lift the whisk. Then whisk in, bit by bit, all but a teaspoon of the sweetener.
4. Now pile up the fluffy egg white on top of each baked apple, sprinkle with the remaining sweetener, and return them to the oven for another 10-15 minutes, until the egg white has just set and is tinged golden brown.
Nutrition: Per Serving
Calories: 113kcal
Carbogydrates: 22g
Fats: 2. (No saturated fats)
Protein: 5g