SPORT >

Cycling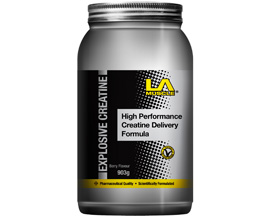 More speed, endurance and stamina
"Best Results" Men's Health Magazine
Recommended Creatine Product: Men's health Mag
100% money back guarantee

FREE LA SHAKER "Best Whey Protein" Men's Health Awards, 48g protein, instant mixing, great taste

Top 3 muscle building & recovery amino acids in exact ratios

Innovative gel for better workouts and quicker recovery, see it working fast!

Patented weight loss formula, protects muscles, 100% natural
Here is a range of sports supplements that are safe, natural and very effective for cyclists wanting to improve their sports performance. Recover quicker, improve speed and stamina and boost your performance. LA Muscle supplements have been helping amateur and professional cyclists speed past their competitors since 1998.