By: Karen Mason, WNBF Professional Bodybuilder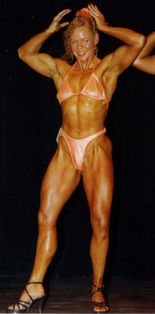 There are many reasons to have a training partner, or I should say, a good training partner. The most important thing is to have someone that you trust will have the same objectives as you do, your show, your preparations, your opportunity to shine rather than theirs. Then when it is their turn obviously you need to do the same for them.
Over the years I've trained alone, had numerous training partners, even at the start of it all had a personal trainer for a while. Finding what you need is a real case of trial and error, the most important thing is to have someone on the same wavelength as you, as long as you have respect for each other's goals then the end result will be beneficial. There can be pitfall also to having a training partner, one of those is chatting, I thought women had the 'rights' on that but don't you believe it! Some men when they train together do chat and chat!! Fine it's good to discuss what you're going to do, encourage each other to achieve the training targets you set yourselves and that's it.

When it comes to who else is in the gym, doing what, or your weekend activities or what ever you find the need to talk about all needs to be done once the training is over. If you are taking a bit too long on breaks between sets you're cooling down, if you chatting about stuff that's nothing to do with the reason you're in you're both loosing your concentration and your training will suffer.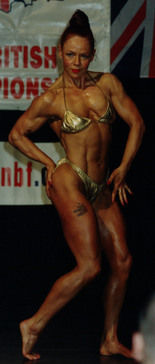 If you have the opportunity to train with someone who has more experience than you then mores the better, take full advantage of what they have to offer. If they have achieved a competition level that you are striving to get to, listen to what they have to say. Not everyone trains the same by any means, not every one is inspired in the same way but if they've got there already, take heed of them. Pick wisely thought, unfortunately not everyone is as forthcoming as they might be especially if you might be standing next to them on stage and they see you as a threat!!
Presently, and hopefully for a long time to come, I train with Godfrey Onyac. Last year was Godfrey's first competitive year, which resulted with him becoming the NPA Novice British Champion and next year he'll be in the Heavy Weights. His enthusiasm and obvious potential is an inspiration for me, the years I've been training and competing is knowledge and experience for Godfrey to gain from, so we complement each other in that way. Some people think that men can't train well with women, I have to disagree.

There are times when spotting is hard with someone much stronger than you, but then again a spot is meant to be exactly that rather than a training partner lifting the weight for the other one, so in that way may be it's a good thing to be a bit weaker. The only time I can remember being made to feel uncomfortable as his training partner was when a man in the gym offered to spot Godfrey, he made the assumption I couldn't possibly help being a mere women. I was happy to silently prove my point by assisting Godfrey without a struggle.



I think the only problem with men and women training together is that other people think it's odd, which of course it isn't. The muscles are in the same place, the fact that as bodybuilders we all want the muscles to get fuller and an attractive shape, both of us want to loose fat getting nearer to competition time and both want to eat correctly when not competing, I can see no reason to change a thing.
Our training program is much the same to most, 5 days a week, one or two body parts at a time and as heavy as we can for as many reps as we can;
Monday Legs
Tuesday Chest & Biceps
Wednesday Back & Triceps
Thursday Abs & Calf's
Friday Shoulders
Saturday CV
Sunday Day off
One of the most important things to gain from a training partner is to enjoy training, and that we do. We encourage each other throughout the training sessions, dieting, CV workouts and posing practice. Sometimes one of us might not fancy the idea of training but normally the other one does, so off we go to the gym and a couple of sets later we are both well into the swing of it and the workout is good.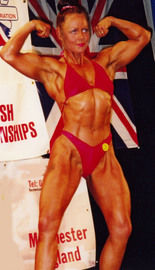 As we are partners in every respect of the word dieting works out well too, we'll be eating the same foods during the day, obviously Godfrey will eat much more than me but the food is the same, the supplements are very similar, thank you LA Muscle for helping us both out on that one, and our goals are the same, to be better on stage than we were last time we stepped up there.