Full supplements guide for teens
A look at what supplements teens between 16-19 should be taking.
One of the most widely asked questions here at LA Muscle is whether our supplements are suitable for teenagers.
We would like to ask a wider question and ask (and of course answer!) whether "any" supplements are suitable for teenagers.
For our purposes by teenagers, we are referring to those over the age of 18. We certainly do not recommend "any" supplements to those under 18 years of age. To those over 18, we recommend only some supplements and a few from the LA Muscle range.
What can happen if a teenager took unsuitable supplements?
A very commonly asked question is what could happen if a youngster took an unsuitable product. This very much depends on the youngster and their developmental stage and what they take. At best, nothing can happen, in terms of side effects or actual effects.
At worst they could get some side effects, depending on what they have taken. For example, a 16 year old taking a male hormone booster over extended periods, can interfere with their normal growth.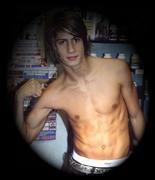 The "safe" list.
Protein
Absolutely essential for building muscle tissue. Any protein powder without any additions is safe for those over 16 years of age. By additions, we mean anything not amino/acid based, routinely found in many of today's protein supplements. These include Creatine, carnitine, ALC, ZMA and of course the dreaded artificial additives and sweeteners.
Without wanting to plug LA Muscle proteins too much, both LA Whey and Bio_Activator come with the guarantee that they do not contain any of the above potentially damaging additions. So a 16,17,18 or 19 year old can safely take either LA Whey or Bio_activator at any stage during their training.
Weight-gain
The same argument as above applies to weight gain drinks. Again to capture more of the market, companies are putting more and more exotic additions in their weight gainers. Beware of male hormone boosting ingredients in weight gainers. Platinum is a good weight gainer for teenagers, to be taken at intervals in a teenager's training period.
Although Platinum does have additions such as MCTs and ALA, these are "natural" ingredients and not likely to affect a teenager in any other than a positive way.
Glutamate
This is an amino acid and safe to take by those over 16 years. It is very good for recovery and increasing muscle size. Again, beware of additions to this product.
Conjugated Linoleic Acid (CLA)
This is a very natural product derived from sunflower oil and can be taken by teenagers for short periods. Sculpt is a high potency version of CLA.
Other LA Muscle products
As one of the leading sports supplements manufacturers in the world, LA Muscle has the capability to give you supplements you would ordinarily not get anywhere else. One of them is IGFAA, which any teenager over 18 years of age can safely take. You can also safely take Cobra, Isolectro, IP4.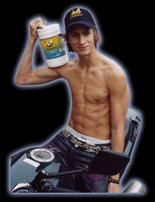 The "try it for short periods" list
Creatine
Many young people, especially in the USA regularly take Creatine. We say, you can take it but if you are under 18, you need to take it for very short periods of time. There are no reasons for this cautionary note, just our opinion. Many people between 16-18 take Creatine in the manner of adults; we do not recommend this.
Komplete
If you are over 18, you can take Komplete for short periods for increase in muscle size and fat loss.
Fat-burners
We do not recommend fat-burners to anyone under 18. This is not due to any safety concerns, just that if you are taking fat-burners at 16, what are you going to be taking later in life? Think about it. We realize that many teenagers do have a need for fat-burners, but please look at your diet and your exercise regime first; this is where the problem stems from. If you are intent, then take Fatstripper as it is one of the safest and most widely used fat-burners around.
Norateen II
Out of the Norateen range, we recommend this to anyone over 18 years of age who is mature in their development. This is quite a natural product used for increases in muscle mass and fat loss. You must not use this product over extended periods. Maximum 8 weeks on, 4-6 weeks off.
The Body Kit System
Good for a quick muscular and lean body.
You can also take Natrex and Nemesis for short periods for increase in muscle size, better recovery and fat loss.
The not recommended for teenagers list!
Male hormone boosters
LA Muscle does not recommend any male hormone boosters to those under 20 years of age. You are highly unlikely to get any side effects from LA Muscle male hormone boosters - this is just a cautionary note for teenagers. This means Discorea Deltoidea, the Norateen Heavyweight range, ZMAX, XST, X_Factor and MAN.
You may get highly undesirable side effects from some male hormone boosters on the market, especially if they contain pro-hormones or too many ingredients.
Here are some examples of safe supplement combinations for teenagers:
Quick size:
18+ years of age: LA Whey + Glutamate
20 years of age: Platinum + Explosive Creatine for short periods
Lean muscle gains:
18+ years of age: Bio_Activator + Glutamate
18-20 years of age: Norateen II + IGFAA
18-20 years of age: Natrex + LA Whey
18-20 years of age: Nemesis + LA Whey
18-20 years of age: The Body-Kit System
Fat-loss:
18+ years of age: Sculpt + Bio_Activator
18+ years of age: Fatstripper + Sculpt
Other safe products for those 18+:
Multi_Protector
IP4
Remobiliser
Please note that the above is a guideline for teenagers. If you are uncertain about anything, please consult your physician.