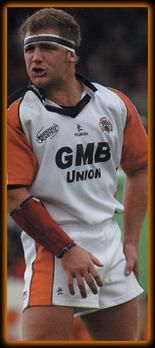 Hi, what's your full name and where do you live?

Ryan Lee Hudson. I live in Wakefield, West Yorkshire.

How old are you and how long have you been playing rugby?

I am 23 and been playing since I was 5 years old. I turned professional at 18.

What got you into rugby?
My parents had a decorator in plastering called "Rocky" and he coached at Oulton Raiders and he took me down in his yellow trotter van with five other lads. We used to get out covered in plaster but we loved it, and still do to this day.

What position do you play?

Hooker/Loose-forward/Back row

What team do you currently play for? What teams have you played for? Which did you enjoy the most and why?

Current team is Castleford Tigers/. Previous teams have been Wakefield Wildcats & Huddersfield Giants. Every club you go to always has a class set of lads. The "banter" is always there. There is a saying at Castleford now : "if you have an ego, leave it at the door before you come in!"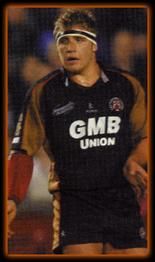 What have been your achievements so far?


Captained England U21s to victory in South Africa
Played England A tour of Fiji/Samoa/New Zealand
Captained Yorkshire to victory in 2003
Captain of Castleford Tigers 2003
Selected in Great Britain 22 man Squad to face
Aussies in 3 test matches called the "Ashes"

What are your short term and long term goals?

For this year, I set 3 goals 1)To play every game unless injured 2)To play for Yorkshire 3)To play for Great Britain. I Achieved them all!!! I still can't believe it. I'm such a big believer in hard work and finally I am reaping some rewards for my efforts.

What are your views on rugby league v rugby union?

They are 2 completely different games! Obviously I'm going to be biased to League but I've played union for my school side, number 8. I enjoyed it but it got boring when teams just used to kick it all the time like a game of ping pong! That really pissed me off. I don't really watch the club rugby, only international games as it is a better spectacle or even the super 12's games.

As intensity goes, there's no better game than rugby league, you've just got to watch it to see for yourself. Then again, that's my view, and obviously I'm gonna' say that, but watch the 2 games and you make up your own decision. LEAGUE RULES!!!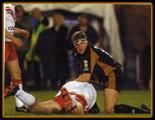 What's your training like?

It depends on what time of year it is, but generally it's hard. Four months pre-season training is the hardest with heavy power/strength weights sessions, also high intensity cardio-speed agility sessions. Also wrestling/boxing/swimming are very vigorous and mentally challenging.

Throughout the 6 months of the season it's all modified around the game and injuries (if any). Generally though it would be 3 weights sessions per week, 1 speed & agility session, 1 cardio session and the rest ball work, video analysis of opposition & rehabilitation i.e. swim after game.

Tell us a bit about your diet.

This is something I'm a big believer in. I reckon fitness/training is 70% and diet 30%. My diet consists of high protein, high carb meals with at least 3 protein shakes a day. The rest solid foods with maybe 2 carb drinks.

I use LA Whey for my shakes as it's hardly any fat in and is nice & light and doesn't bloat you. In the morning I usually throw 50grams of oats in with my shake.

Do you travel much with your team? What's life like on the road?

London is probably the furthest but we stay overnight in a hotel. International games are the best when you get to go on tour as that's a real good laugh. Plus you meet new mates and play with other people from different clubs.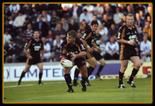 There's always a joker in every camp and only recently, telling no names from other clubs, after a few beers he happened to wet his bed and tried to climb into mine. Luckily I managed to wake up and throw him back on his own bed. He rolled over, fell on the floor and woke up there 8 hours later!!!

What's been the greatest rugby moment for you?

Getting selected in the Great Britain Rugby Squad 2003 to face the Aussies in the Ashes series.

What would be the ultimate achievement for you?

Win a grand final and play in the NRC (Australian Rugby League). Beat the Aussies in a test match.

What supplements do you use?

LA Whey, daily. Explosive Creatine when I need a boost. Also in pre-season it makes me stronger and recover quicker.

Do you think supplementation is important in a rugby player's life?

Everyone has their own opinion but I could not reach my optimum level of fitness without them. It's too hard to have 6-7 meals a day without including a protein shake in them 6-7 meals.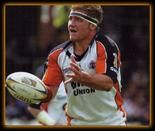 If you could only take 1 supplement, what would it be?

LA Whey protein shakes. I take LA Whey daily and without it I would lose weight dramatically. I can get my carbs easily from solid food as I could with protein but I only like a few sources of solid protein.

Do you have a girlfriend?

No! Any offers are welcomed!

Do you find women are more attracted to you because of the job you do?

Sometimes. You can generally tell from as soon as they start speaking to you.

What's the typical reaction you get when you tell people what you do?

It differs every time and also depends on where you are in the world!!!

Is there anyone who has been a real influence in your life?

Mum & dad also every other member of my family as we are all so close. I also have some good mates that give me advice too.

What do you think is the greatest rugby player ever?

Ellery Hanley.

Would you like to add anything else?

No, just to thank rugby fans out there for reading my interview.