Monday, 20th June 2011
Premium Service by LA Muscle
From browsing, to advice, to purchase and after-sales. We won't let you down.
Premium Service from LA Muscle
LA Muscle is known for supplying the best quality supplements around. Another known (or unknown to some of you) fact about LA Muscle as a company is that we absolutely pride ourselves on giving you the very best possible service.
Sure, there are lots of supplements companies out there that sell cheaper supplements that do little or nothing for your goals and offer absolutely terrible service. Most people don't get to see this side of them. As long as things are OK, you never get to experience the bad side. Cheap and cheerful companies do not invest in service. They don't have the budget for it!

What if things go wrong?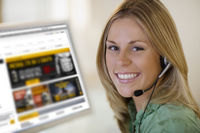 What happens if you made a mistake on your order? If you wanted to change your order or cancel your order? What if you wanted to change the delivery from normal to next day? What if you wanted a little more advice about the supplement and you want it right now? What if your order didn't arrive on time? What if you weren't happy with your supplements upon delivery or after use?
LA Muscle's Premium Service is exactly that, a premium service not offered by any other supplements company. Whether you order a Flapjack for £2 or a top-selling deal for £100, you will get the very best service in the industry. This is an LA Muscle promise and Guarantee.

What is LA Muscle's Premium Service?
Trained Team Members on the phones from 8:30-5 p.m. every day, ready to answer any query you have. No answer-phones or machines - only real people.
24 hour phone order-line. Call any time of day or night and we will take and process your order.
All calls answered within one ring (90% of the time).
Freephone number for all your orders in the UK: 0800 328 2345.
Instant Live Help via www.lamuscle.com weekdays. Get instant advice to any questions you may have from training questions, to supplements or the status of your order. Open 8:30-5 p.m. GMT.
All your emails answered same day or by the next day if sent after 3 p.m. (weekdays).
100% of all products always in stock.
Rapid dispatch within 30 minutes of placing your order weekdays for the fastest delivery.
Guaranteed next working day delivery as long as you order before 2 p.m.
No hassle money back guarantee within 30 days of purchase - even if you have used the whole tub. We want you to be happy and to recommend LA Muscle to all your friends.

LA Muscle has been in business on 4 continents since 1997. We will do whatever it takes to not only give you the best supplements but also make sure you never have anything to complain about when it comes to our products, advice, delivery or after-sales service.

If for any reason at all the LA Muscle after-sales service is not of the highest standards, you can email our MD direct and he will personally put it right: md@lamuscle.com
So you see, many others may try and "look" the same as LA Muscle. It is only when you need extra help or if things go wrong that you truly get to see the difference. That is where LA Muscle shines and will continue to invest heavily to ensure our service is exactly what we say it is: Premium Service.