Interview with British Powerlifting Champ
Geraint Nicholas interview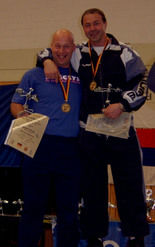 Where and when will you be competing next?
My next comp will be the W.PU. Welsh championships in Swansea in March. And the B.P.O British in Bath in April.But we will be having a bench comp in Swansea , end of Jan to raise funds to send a Welsh team to the Commonwealth Champs in 2007.

What did you win?
I won a silver medal at the 2005 W.P.F World Powerlifting Championships, in Gotha , Germany.

How many people did you competed against?
In my class there where 4 competitors. Myself, and Athletes from Germany, Mexico, and Austria. With the W.P.F being self funded only the very top lifters in the organisation tend to lift in Internationals!

What are your future plans and goals?
My future plans, are to try to break my Welsh masters Squat record in March, and have an attempt on the W.P.F. world masters Squat record in April.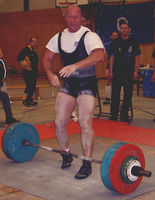 What supplements do you take and how often?
I take LA Whey all year round. And before a comp. I take Explosive Creatine for 5 wks.
How do you think you have improved?
I think improvement comes with patients and experience. My main improvements have been in the squat. I have put about 20kg on this in a year! Not sure about the deadlift as I normally go for a huge last attempt. My best is 287.5 kg, but I have pull 305 and 310 of the floor to my knees. So I think there is an improvement there.

What sort of training do you do how often?
I train 3 nights a week. Doing low reps (between 2-5) per set. And try to train inside the hour. A training cycle lasts about 10wks then one wk off. with reps on the Squat, Bench and Deadlift going from 5 reps down to 2 or even on rep.

Who has helped you to achieve your win?
I train on my own. So I am pretty much self motivated. But my main sources of help are. My wife. Paul Evans and Barry Williams who own and work at First Class Gym where I train. And finally 2 Powerlifting Friends from Swansea. Shaun Davies and Phil Richard.

How do you feel when your on stage?
On Stage I feel confident and determined. You have to be or else the weight will crush you. But saying that you have to show the weight respect as it is heavy enough to cause injury, or even death.

What did you enjoy must about your competition?
The parts I like the most about competing are, Doing my best, beating personal goals, helping other team members, and meeting lifters from all over the world.

How did you feel when you won?
I was very pleased to win a World Championship silver medal. But a little disappointed not to have won gold, as it was close and went down to the last lift.

At what age do think you'll stop competing?
As long as I can keep injury free I would like to go on until I am 50. But it is not something I have ever thought about before.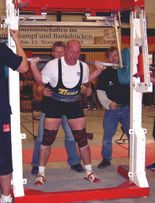 What age did you start competing?
I started lifting at a late age. I was about 28 yrs old.

What's the atmosphere like behind stage?
Generally, very friendly as is the nature of Powerlifting. It tends only to be in the Deadlift that athletes keep a close eye on each other as this is when titles are often won or lost.

At what point in your life you decided to take up powerlifting?
I took up Powerlifting when I started lifting but I have been lifting weights since I was 17 yrs old.

How old are you?
I am 42 yrs old and will be 43 in July.

Would you like to say thank you to anyone?
I would like to thank my Wife, Kath for all her patients (training for a major championships is tough on everyone in contact with the athlete involved), Paul and Barry who own and work at First Class Health and fitness centre in Bridgend, South Wales, My two Powerlifting friends from Swansea Shaun Davies and Phil Richard, and also Dave Carter who runs the B.P.O.

Thank you very much Geraint. Good luck with your future competitions.