"Don't you just fancy a chip butty? ", Well, "Yeah I do, but I can't " is my usual reply to the question that my mates often ask me at 12.30 every day just as its around lunch time. What they don't realise is that I've been awake since 6am and between 6am and 7am, I have been on the treadmill doing my early morning cardio followed by half an hour of various different types of sit-ups and crunches.
Ya see, from my point of view, the taste of a fish or chip butty or a bag of crisps doesn't out weigh the need to feel and look good in whatever I decide to wear but the most important factor is in no way, shape or form, will it help me achieve my physical or performance goals.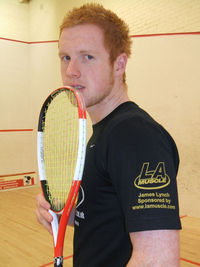 I have been playing squash for many years now and it was only 16months ago that I decided to take my squash to the next level and start playing semi-professionally. I have played for Yorkshire, Queens Sports Club and Cheetham Hill. I am also currently playing BSPA (British Squash Professional Association) tournaments as well.
I believe that for any athlete, if you decide to play or take part in any sport at a level at which requires a lot more dedication than your average competitor then you have to be willing to make certain sacrifices. This doesn't mean that you have to change your life completely but if you want to make it to the very top of your sport then you have to avoid anything that is going to stop you achieving this no matter what it may be. This will separate your very good athletes from the exceptional.
Personally, I am not the kind of player that wants to have all his "eggs in one basket "as they say, which is why from September, I am also going to be studying "Sports Performance and Excellence"at college. I have decided to do this as I feel it will open many doors for me in the health and fitness industry, as I will be studying all factors of elite performance within sport and also psychological elements that lead to elite performance. After the course is complete I will then have the opportunity to continue this at University and study either Sport Psychology or Sports Nutrition.
Here is what a typical day looks like for me in terms of diet and training !!!
6.00am - Alarm Goes Off
6.10am - Exercise Bike (Half Hour Cardio)
6.40am - 30 Minutes Various Sit-Ups/Crunches
7.15am - Shower/Wash etc
8.00am - Take Various Supplements (LA Sculpt, Protein And Multi-Vitamin)
8.15am - Porridge Oats With Skimmed Milk
6 Scrambled Egg Whites + 1 Yolk
2 x Wholemeal Multigrain Toast
11.00am - Protein Shake + 1 Banana
12.30pm - Chicken Breast, Vegetables and a Jacket Potato With Low Fat Cottage Cheese + LA Sculpt
5.00pm - Protein Shake + 1 Banana
6.00pm - 1.5 Hours Court Work i.e. Solo Movement Practice, Shot Practice or Match Practice
7.00pm - 2 Body Parts Per Day In The Gym i.e. Chest/Triceps - Back/Biceps etc
8.30pm - Whole Grain Rice, Chicken Breast and Vegetables + LA Sculpt
11.00am - Low fat Cottage Cheese On 2 Slices Multigrain Toast
Above is what a typical training day would look like but there are always times when there is a social event taking place or times when I cant stick to this eating and training plan religiously so I have to make variations to enable me to still enjoy my time on this earth, haha, and still get the best out of my body and stay in the best shape possible.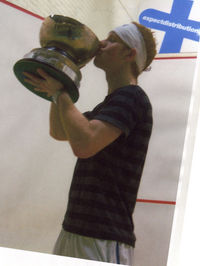 When I first started taking my training and nutrition as serious as I do today, one of the main questions that concernd me was, would I still be able to have a social life with my mates, as in, go down to the local pub and have a few beers whilst still being able to perform to the best that I possibly can, and I have now realised that yes you can, as long as you do everything in moderation. A couple of pints on a Friday or Saturday night is acceptable whereas 5 pints on a Friday and 5 Pints on a Saturday isn't, so you can still live a normal life, you may just have to make a few slight changes here and there.
As a conclusion to this article I would like to thank LA Muscle for all the help that they have given me over the past 6 months, they are a fantastic company to be associated with and I believe that their supplements are the best in the business in terms of results and the quality of the products. They have also been a fantastic help to me if I have needed any advice with my training or advice with various supplements, I must take this time now to apologise to Agata (My Sponsorship Contact) as I'm sure I have filled your inbox up more than once wanting advice on various things, I do appreciate you replying very fast to all my requests !!!
I would also like to thank another company who have played a major part in allowing me to play and train at the level that I do and that is Planet Personnel who are Global Footwear Apparel & Textile Recruitment Specialists, this is a company based in Halifax, Yorkshire. Planet Personnel is a consultancy dedicated to the recruitment of high calibre candidates for the global apparel, footwear & textile industries, if you require anymore information please visit www.jobsintheindustry.com.
Thanks For Everything Guys And Until Next Time, Stay Dedicated And Keep Training Hard !!!!