Thursday, 17th May 2012
How fresh are your supplements?
And why many UK supplements companies are hiding a very important truth from you…
Have you ever seen some apples in a supermarket that looked like normal, fresh, juicy apples only to take them home and see that they are old, tasteless and a total waste of money?

In the documentary The Supplements Game, you hear about LA Muscle's Green & Fresh transport programme and the fact that LA Muscle ships all supplements by air to arrive in the UK overnight.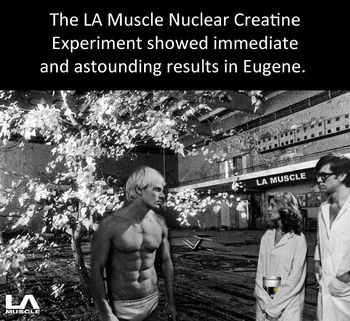 LA Muscle supplements are manufactured for the most part in the USA in LA Muscle's own state of the art FDA-Approved manufacturing facilities. This is why LA Muscle supplements are unique in that they are not the standard generic re-labelled ones you often get. They are LA Muscle's own formulations, produced as a result of LA Muscle's unique multi million pounds R&D programme. LA Muscle does not manufacture for anyone else.

Some UK supplements companies argue that their supplements are better due to the fact that they are UK produced and encounter no shipping delays. Here is a fact you didn't know: Almost all UK supplement companies get their raw ingredients from China. They may not tell you this or try very hard to avoid/hide this fact but it is true. The UK does not manufacture the raw ingredients for the majority of sports supplements you see on the market. Companies have to go to China.

Most UK supplements companies package and re-label Chinese raw ingredients.

You may ask what's wrong with getting raw ingredients from China? The answer is nothing. However, these UK supplements companies cannot give you the sort of guarantees that LA Muscle can give you on their supplements. In other words, they will not know how long those raw ingredients were sitting in a Chinese warehouse before they got on a boat and took weeks in damp conditions to get to the UK. This reduces their potency.

When you part with your money for an LA Muscle supplement, you get the following guarantees:


Maximum storage quotas on all raw ingredients, which are produced in the USA i.e. LA Muscle does not buy old raw ingredients
Optimum storage conditions of fresh raw ingredients in LA Muscle's state of the art FDA-approved facilities
Rapid 1 day bulk air shipping to the UK to ensure full freshness of all supplements i.e. LA Muscle does not use ships which take weeks to arrive and expose supplements to damp conditions which are detrimental to their potency
When you buy an LA Muscle supplement you can be assured that everything has been thought through to ensure you get the very best. Yes, they are not the cheapest and that's because they are the most effective. You can't have both! This is the LA Muscle guarantee and the reason why LA Muscle supplements actually DO produce the results they promise and come with a 100% money-back guarantee. There are no rotten apples at LA Muscle and no disappointments, just great supplements of the highest potency and freshness… and if you don't agree, you will get 100% of your money back.