Sunday, 18th January 2009
Ben Kirby interview
Heart to heart with top fitness model Ben Kirby
Hi Ben, where do you live at the moment ?
At the moment out of term time I live in Farnborough in Hampshire, but during term time I live in Loughborough in Leicestershire; where I attend the University


The list of sports you've been involved in is impressive. Can you actually list all of them?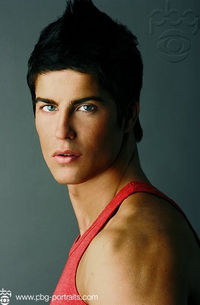 I've always loved sport but didn't play for any teams until I went to my secondary school, a military boarding school in Kent, the Duke of York's. There I was lucky enough to play in many of the sport teams that were conducted at the school, such as: Rugby, Hockey, Indoor Hockey, Cricket, Cross Country, Athletics and Water polo. I tried to fit in as much as I could around my initial studies and other aspects of school life such as C.C.F. Combined Cadet Force and other ceremonial aspects.
And which ones are you focusing on at the moment?
When I arrived at Loughborough I started to play hockey for one of the university teams, and also in the Easter of my first year I joined the gym. Starting my final year I wanted a new challenge and decided to rekindle my passion for rugby and have recently achieved a place on one of the university teams. I see rugby as going hand in hand with my gym training as it is my main source of cardio work and great for explosive power.
Recently you've also been very successful fitness model, how did you get into that field?
After 6 months of taking up modelling I have featured in the November, December and January/February issues of Men's Health magazine; including numerous double page spreads. I have worked for Guess and have other projects and photo shoots lined up for the close future, as well as working with some great photographers. I have also had international experience in the Algarve in Portugal.
Is modelling something you would like to do in the future as well?
It's definitely something I will continue; I've met some great people and had a lot of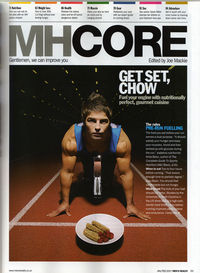 fun. For now my studies must come first but I am in my final year and have many options for the future. I haven't got any ties so possible options would be, straight into a course related job, more modelling, travelling the world or possibly a masters degree or something completely different!
And how did you get into Men's Health. They've featured you in the November issue…
A modelling agency I am with Universal Model Management, which O Crème Management got my connected with, got me the photo shoot with Men's Health. It was a fantastic opportunity with not only a chance of great coverage, but also a fantastic day in itself and I got some great photos for my portfolio. I wasn't told too much about what the photos were being used for but was extremely happy to see I was on 7 pages in the issue. And since then I have featured in the next two issues after that as well!
How has O'Crème Management helped you?
O'Crème Management has really kick started my modelling career by getting me with some fantastic agencies. I'm sure the other models with his company would agree that he's doing a great job.
You probably spent days and nights building your amazing physique. Can you tell us about your training?
As I've only been training for around 18 months my routine is constantly changing as I learn more about working out, diet and supplementation. It is a major interest of mine so I really enjoy reading all the information whether through books or looking on the internet. I train when possible 6 days a week for around an hour and a half, but quite often I'm not able to do this, especially when I'm not at university; this is due to travelling places and commitments like photo shoots. I work on 2 major muscle groups a day and do 3 exercises on each muscle; consisting of 3 sets of between 8 and 12 reps. When I first started I did a lot of cardio work, mainly running, which helped to get rid of a lot of body fat. More recently I have not been doing a lot of cardio as I want to add bulk to increase my weight, but due to a good diet I have not added any body fat.
So how does your typical day look like?
Being a student I generally don't wake up to early, typically around 9 and that's quite often with a hangover!!!! I have breakfast, generally just a bowl of cereal, possibly do some course related reading and then go to the gym at 11 for around an hour and a half. When the session has finished I have a protein shake then have lunch, which consists of wraps or pitta bread with salad and various meats such as chicken or turkey or tuna. In the afternoon I may have some lectures or I will read, most days I have a protein bar to keep my metabolism ticking and hunger levels down. For dinner I eat a lot of pasta, rice and vegetables, with various sauces and lean meats, again generally chicken or turkey. At night I will eat a sandwich or more cereal to keep my calorie intake slightly higher than what my body is burning to aid muscle production. Sometimes I will have another protein shake for the same reason, and it also augments recovery in muscles. I have rugby training in the evenings twice a week and a match once a week.
And which supplements are you taking at the moment, how do they help you?
I take a Multi_Protector, VIP Potein, LA Whey Protein Bars and Explosive Creatine on a regular basis, whilst alternating between, ZMAX and Norateen Heavyweight II. They have immense effects covering a range of benefits; the protein based supplements and Creatine allow muscle growth and recovery. Whilst the Norateen Heavyweight 2 and ZMAX aid male hormone increases which in turn aid muscle growth and strength increases. Norateen Heavyweight 2 in particular has massively aided my training by increasing my strength and being instrumental in allowing me to increase my weight, each time by 7 pounds at least.
Which is the most important supplement in your diet?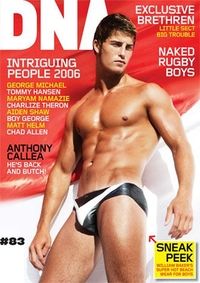 Well protein is essential for muscle growth and recovery. But my personal favourite is Norateen Heavyweight 2, the results I have experienced with this product have been fantastic, I find it hard to gain weight, but with this product I put on 7 lbs of muscle every time I've used it, I recently took my third batch and not only did my strength increase instantly but again I increased my weight by 8lbs.
Are you careful and disciplined with what and when you eat?
To a certain extent I am, but I know there are a lot more people out there taking there diet a lot more seriously! I try to eat healthily but if I ever fancy a pizza or chocolate I wouldn't hesitate to have some, I am just a big fan of portion control and I'm very disciplined when it comes to it. I train because I enjoy it and the benefits I get from it, the moment I stop enjoying things I would quit it, so I don't ever take things to seriously. Also I have achieved my results doing things my way, so I'm not going to change now!
Have you considered trying bodybuilding?
Recently I have been researching into the bodybuilding world, if I entered before March I could do a junior competition as I would be under 21, if I want to wait and have more time then I could start off with a first timers category or go straight into a novice competition. So keep checking the la muscle website to see if I do get involved!
At the moment you're at your last year at university, how would you like to further your professional career?
One option for the future for me would be to enter an Investment Bank through a graduate scheme as this is something that interests me and is very well rewarded. Or I could do a masters degree some where else in the country.
What advise could you give to all the guys that would like to have a body like yours?
What you put in is what you are going to get out, there will be times when you don't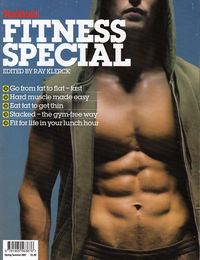 feel like training but that is when you just have to get out there and do it. It's not easy otherwise everyone would do it, but the results you can get out of it in just a short period of time are fantastic. You also need to know what your doing, I was lucky that I had friends to guide me along the way from day 1, but if you don't then look on the internet and in magazines, there is virtually an unlimited supply of knowledge out there. With a bit of discipline and will power the results you've dreamed of are possible and within reach, just have the confidence to go out and get them.
And how do you cope with the crowds of women wanting to have a piece of you?
Haha I'm not to sure about that, I recently came out of a long term relationship so back on the market for the first time in a long time. As for coping I'm sure I'll be fine!
Would you say your routine is affecting your personal and love life a lot?
I feel a much more confident person since I started weight training, and I have had a lot more female attention too. A lot of my male friends will ask about training too which I am always really happy to help answer questions. Being more confident has helped me in all areas of my life whether it be with women, friends or work, and I don't know many things other than weight training that can change a person in this way.
Do you have an ultimate goal?
To achieve a 2:1 in my university degree of Economics Bsc, and eventually be on the cover of Men's Health magazine. I feel confident in achieving these goals and will do my best to realise them.
Is there anything else you'd like to add?
I'd like to thank LA Muscle for there support so far, and also my housemates and training partners which my results are a testament to there support and knowledge; Adam 'admiral' Smith,