Sunday, 18th January 2009
Interview with Argentinian Champ Fernando Balsari
Exclusive interview with Argentinian bodybuilding champion Fernando Balsari. Part of the LA Muscle "real bodybuilding life" series.
Part of the LA Muscle "real bodybuilding life" series.
LA Muscle recently met up with one of South America's best known bodybuilders, Fernando Balsari. Interview by Franco, photos taken in Argentina & Brasil. LA Muscle photos taken at Sheraton Hotel & Towers, Rio De Janeiro, Brasil. LA Muscle wishes to thannk the Sheraton for their assistance. Posing with Fernando: Argentinian Model Evelin Mason.
1) What is your full name please?
My full name is Fernando Balsari
2) When and where were you born?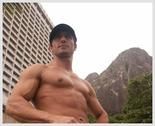 I was born on August 8,1964, in Buenos Aires, Argentina
3) When did you start bodybuilding and why?
When I was 18 years old I started to get to know what bodybuilding was about. However, until 2 years ago, I would go to a gym for a short period and then quit for one or two years, train on vacations and then quit during the year. Only two years ago did I start to train periodically and go to the gym and follow a muscular group weekly training on a steady basis. I really started taking it seriously at the beginning of 2002 because I wanted to see a change in my body and also because I love sports in general.
4) What gym do you train at, and what is it like?
I'm currently training at the "Steel and Blood" gym which not only has excellent machines, but also good availability. It is staffed with a group of outstanding professionals from body building federations, such as IFBB Argentina, CBA Argentina, WABBA Argentina, etc. Many of them have been Argentine and South American champions and also work as personal trainers. "Steel and Blood" is located at Av. Cabildo 820 Belgrano Area, city of Buenos Aires.
5) Do you have easy access to supplements in Argentina? How easy is it to get hold of them? Are they expensive?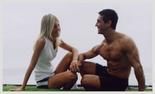 Personally, I get them in USA, but usually they are difficult to get and extremely expensive. That's why many people resort to national products, which are cheaper, of poor quality and, obviously, do not yield the necessary results. Serious trainers know which products to use, of which brand and which is the best choice and that is what they choose.
6) Do many people use them?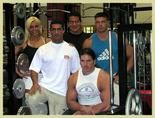 Especially in Argentina, you can notice it has become very fashionable to be in good shape and this has led the market of these products to grow and I believe it will keep on growing significantly. Then, you can see that people are using these products more and more as a worthy option to get the desired results.
7) What supplements have you/do you/ use?
As basic supplementation, BCAA amino acids, multivitamin and whey Protein. Additionally, creatine/glutamate planning and prohormone complexes.
8) What is your best body part and your worst body part?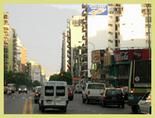 I love my arms and calves. I don't think I have any really weak part, just because of training. My quadriceps do not match my calves. (Actually, I would like to have bigger and more uplifted shoulders).
9) What is your favourite exercise? Why?
My favourite exercise is the back because it gives me a feeling of bigness and growth. For instance, when working my back in low rowing, my arms burst out. The same happens in back pull up.
10) How many times a week do you train? What is your favourite routine?
Off-season, 4 times a week or the number of days necessary to complete all the muscular groups.
Always stretch and warm up before exercises
Day Exercises Sets Reps Maximum Weight
Chest, tricpes, abs 4 8 Yes
Back, forearms, 45 minutes Aerobics 4 8 Yes
Shoulders, biceps, abs 4 8 Yes
Legs. 45 minutes Aerobics 4 8 Yes
11) What is your diet like?
Basically 70% is protein-based balanced with 30% carbs, like whole rice and fresh vegetables and oat. Usually I workout in the evenings from 6 to 7 pm. 6 meals a day.
1st proteins 70%, carb. 30%
2nd. Proteins 70%, carb. 30%
3rd. (midday) 50% proteins, 50% carbs
4th. 70% proteins, carb. 30%
5th Before workout. 50% proteins, 50% carb
6th 90% protein, 10% carbs
and at least 6 litres of water per day
No sugar or sweets
Minimum sodium
Minimum fat
No alcohol ever
12) What is your motivation for training and what is your motto in the gym?
My motivation is to make my body look really well and to progress every day, growing in accordance to my effort. My motto in the gym is to finish each training day feeling satisfied with what I have done.
13) What competitions have you entered and how were you placed?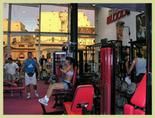 In June 15, 2002, in Argentina IFBB Championship Classic: First place in the up to 65 kg category and 2nd place in the overall. On December 8, 2003, Argentino Clausura – IFBB Championship: 3rd place in the up to 65 kg category. This is the most important tournament of the year in Argentina.
14) What are competitions like in Argentina? Is there any prize money?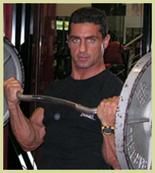 There are several tournaments during the year and of several federations. They award prizes and only the 1st, 2nd and 3rd receive money. In many cases, such prizes are enough only to pay for nutrition expenses. Only at the most important one, the Argentino Clausura tournament, to which athletes from all over the country come, are the prizes actually significant and really good money can be earned.
15) What are your goals and upcoming competitions?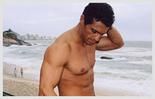 To develop myself as a professional, participate in international tournaments and make it profitable. My next goal is the South American tournament which will be carried out in Venezuela, in Oct, 2003. Athletes from all over South America participate in this mega-tournament.
16) Anything else you want to say?
I would like to get sponsors and publicity. Also to teach to new generations of athletes how to make progress by means of nutrition and methods of training. On the other hand, I would like to represent some international nutritional product trademark.
Thank you very much Fernando and good luck with your bodybuilding career.