Sunday, 18th January 2009
The truth behind the Awards for Supplements
We break the silence and reveal the facts behind one of the industry's biggest secrets - read and see if you have been conned or not?
Real or a con?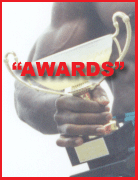 Since last year we have been contacted by many of our customers who have told us they have or intend to vote for us in various supplements awards. From day one we said one thing: DON'T!.
LA Muscle has not participated in ANY of these awards and does not intend to. From the evidence we have seen, these awards are nothing but a ploy to get your details and use them for commercial gain or to promote certain brands. You don't believe us? Then please read on, you will be amazed at the following information...
COMPETITION IN THE UK IS FIERCE
As you are probably aware, there are many supplements companies in the UK. Anyone who has a little bit of savings seems to have jumped on the bandwagon and is either manufacturing (term used loosely!) supplements with their grandmother in their shed or importing well-known or dubious brands from various parts of the globe. As competition has become more fierce, people have become more inventive as to how they can get more customers. Last year, one of these re-sellers came up with the idea of having an awards ceremony for supplements.
He registered a web site under his name and started mail-shoting all supplements companies to participate in this "unbiased" awards ceremony. The address for these awards were the same as his offices, the "unbiased" accountants were "his" accountants and he was the awards promoter!
Of course any of his competitors that had any sense saw what he was trying to do and did not participate in these awards. In fact one of the competitors sent a mailshot to all other fellow competitors warning them of what was seen as possibly the biggest and most ingenious con trick the UK supplements industry has seen thus far.
Mr W (let's call him that for now) even had the cheek to send literature to various competitors of his, inviting them to send these "voting literatures" out to their customers.... in effect passing on their entire customers list to Mr W for free - from right under their nose!
UNBELIEVABLE, ISN'T IT?
Although most other supplements companies saw through this, unfortunately most consumers didn't. To them this was just an unbiased supplements awards giving them a chance to vote for their favourite supplements. LA Muscle has never endorsed and WILL NEVER endorse any such award unless it is run by a completely independent body. Think about it for a minute: We spend hundreds of thousands of pounds annually on legitimate advertising, getting customers who are interested in LA Muscle supplements. We advertise as LA Muscle and only invite those interested in our supplements to give their name and address to us. Here you have consumers who are in theory voting for their favourite brands, but in effect they are providing their details free of charge to a supplements seller.
SO ARE THE AWARDS JUST A BIG CON?
You decide. We have just given you the facts as we see them. It is like Coca Cola running the awards for the best Cola under the guise of The Cola Awards!
We have made you aware that these awards are NOT run by independent bodies. Yes sure they can get a couple of "non-competitive" bodies such as magazines sponsoring them (anyone can) but so what?
If you want to do LA Muscle a favour then DON'T vote for us in these awards. Once again we DO NOT endorse, support or agree with them in their current format. If there was an "independent" body set up to give awards to supplements companies, then we would be 100% for it.... but ONLY if it was run by people who are not associated with supplements companies in any shape or form.
We are not saying that all these current awards are cons. If you think they are not, then please feel free to vote for your favourite brand. You may see some of our products included in these awards lists - we have NOT authorised their inclusion.
If anyone who is independent of any supplements company would like to set up a UK awards programme for supplements and we can verify that they are independent, then we would gladly put our name down.
If you Mr W think this article is libelous or wrong please feel free to let us know in what way or sue us. ;-)