By 2004 EFBB British Champion and LA Muscle Sponsored Body Builder Gilbert Alaskadi.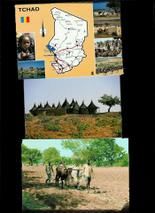 Some time I look back and say to my self: how did I get here? No, I could not believe if someone says to me twenty one years ago that It will take me more than ten years to build a national winning physique. But believe me, this is how long it takes me to win the British championship with trial & errors. From football to martial arts (kung-fu) and boxing, I took up bodybuilding to get strong & big but finally got hooked to it and there was no way back.
Born fourth of seven kids of same parents in a very small village in the dip bush of southern Chad, I move to the neighbour town to continue my studies in secondary school. A civil war broke out and I flee to neighbour country Cameroon and then to Nigeria where I continued with football, kung-fu then boxing until I found in a store Joe Weider's fitness apparatus with body builders' photographs on it, but could not believe it's possible to get a body like that. So I bough my first chest expander & a Power twister.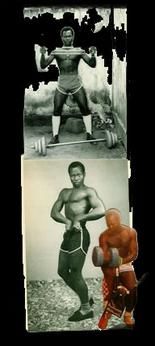 As you can see in my photographs, training equipments & food (not to mention supplements) are very expensive and some times inaccessible but it doesn't stop my training. In 1985 in Cameroon I found my adoptive father Mr Paul Pere, a French national of 63 years old whom takes to France in 1987 for his operation as he can only trust me to look after him. There in Angers (west of France) I found my first modern gym .See photograph where Rogers Prevost, Silhouet'2000's owner could not wait to teach me my first posing routine for my first time competition which I won easily representing the gym. The rest is history; as I went on to win regional grand prix de Nantes and Angers in 1988 &1991 respectively where I've been honoured meeting Thierry Pastel & Didier Blanc. My dream doesn't end there, as I was motivated to carry on to NABBA Mr Universe in Birmingham in 1993 where I didn't get a call out or placed.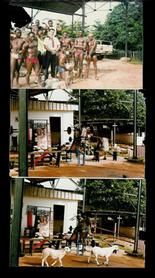 Back in Africa training again this time for NABBA Mr Universe in England and WABBA world championship in Germany in 1994.Training wasn't my problem, but supplements & my transport were the biggest enemies. But listen to this: my protein sources were egg whites, tuna & steak. I was so fortunate living with Mr Pere as he was a butcher and owned a farm of cows, sheep (you can see walking across them walking across the gym), pigs and chickens so I could get all those natural foods for half price. I'm more concerned about supplements. So I though I should use powdered milk. What ignorance? And I kept using that milk up to two days to the competition in Birmingham, and even ate every thing at the buffet and only now I remember why the officials were asking me if I am a competitor? I mean I didn't know about diet.
But not too bad for the ignorant African who believed in natural force and food. As mentioned above, I couldn't afford to pay for my transport to England & Germany so I seek help and sponsorship from the Libyan Embassy in Cameroon and there comes a political matter. Before things get worse I'm already in Birmingham for the 1994 NABBA Mr Universe ,but can't go to Germany because of the political problem. At the show, people can see that I've got good proportion and symmetry but lack quality so they come to me saying: What are you taking? I didn't know what they mean by that. One of them came explain to me and give me a plan of London's Muscle Works gym. There, I could not believe that dreams come true as I meet my admired bodybuilder JD Dawodu that I've just cut his photograph from Flex magazine and pin it right at the door of my single room
It makes me believe strongly that if I give my best, I could become the best there could be. Who feels it knows it. Discipline, desire, dedication and the drive, I've got it then. But it hasn't been easy to make it to the top. I've been though lot of difficulties. Thanks to the background I came from that makes me strong and I should be proud of my self.
After two years trying unsuccessfully at the NABBA Universe, I though it's time to move to the other federation IFBB. Above and below are the photographs at the NABBA Mr Universe1993 in Birmingham.
I was 10th in my first attempt at British championship in 97,then 5th in 98,6th in99 and 5th again in 2000 Don't know what was wrong, because I couldn't dial it in on the day and can you see what a waste of time? Never give up. It's "vaincre ou mourrir" (Win or die). So I try again after a year off, and could only manage 7th place in 2003. 2004 looks cool and relax as I went on to win the British championship.
Now with the door open, I'm going to give it my best. Two or three competitions coming up this year: Europe, June in Poland, English Grand Prix in London and World November in Hungary. Give me your supports and see what's going to happen.