Thursday, 26th August 2010
Pilates- the very basics
by Francesca Giacomini
I often get asked: What is Pilates? Is it similar to Yoga? Is it all about breathing? I gently smile, because I know that Pilates can be very hard physically and mentally, especially the way I do it: Hard Core Baby!!!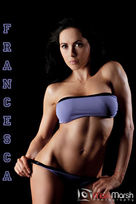 Now let me explain, what Pilates is about and where it comes from.
Pilates a short history
Pilates is a system which allows you to achieve a perfect balance by mixing different fitness approaches. The Pilates method was invented by Joseph Pilates in the mid 1920s to overcome his fragility due to an illness. Then he developed his knowledge of rehabilitation by helping the injured in WW1.
J. Pilates then moved to New York where he set up his own studio and attracted actors, athletes and other celebrities in the course of his work.
The Benefits
Physical: improved flexibility, greater strength and muscle tone, increased bone density, greater join mobility, improved circulation
Appearance: a flatter stomach and trimmer waist, better posture, toned buttocks, thighs, arms, shoulders
Mental: Improved self-esteem, alertness
The Principles
Neutral Spine: maintain the neutral curve of your spine
Concentration: try to put your mind into the exercise, so to target the muscle you are working on
Coordination: maintain body awareness, keep neutral spine, always lengthen through the movement, maintain body alignment and tummy in, while stabilising the shoulder girdle and maintain your neck long and relaxed.
Breathing: breathing in through your nose allowing ribcage to expand laterally and breathe out to your mouth drawing the navel towards your spine.
Centring: keep your tummy in towards the spine and engage your pelvic floor muscle (It will give you a flatter tummy and improved your sexual life by keeping that pelvic floor tight!)
Precision: aim for quality of movement.

By now, I hope you will have a better understanding of Pilates, however I want you to know more about different ways to teach it...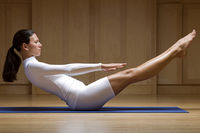 Most Pilates teachers use between 5 to 10 reps per each exercise. I take it a step further and with my clients I do between 15 to 20 reps, sometimes up to 50 repetitions. I believe that the more reps, the more you feel the burn, the more the muscle works towards tone and definition whilst keeping your metabolism firing.I also believe that the first 8 reps are not intense enough, because the body has to get used to the movement and understand it well before performing it correctly and intensely. Therefore I make my clients sweat, and even if the movements look easy I ensure you they are NOT! My clients are often surprised how such a small movement can be very hard, especially when I'm teaching BIG Guys!!
I love the way that they can squat hundreds of pounds, but having trouble to lift their leg 20 times with a 2kg ankle weight!
The beauty of Pilates is that it can be performed on different levels and by different people: from injured to a top athlete, from a teenage girl to a 70 year old man. Pilates is the chameleon of Fitness, it adapts to anybody, anywhere!

Try it, you won't be disappointed.
TRUST ME!
Stay Fit and Healthy
Love and Light
FG