So you are fed up of the same old protein source? Here are 10 alternative protein sources for you to spice up your culinary life!
1. Mussels
Mussels are a source of zinc, selenium and protein. At 24g protein per 100g, you get protein as well as a big dose of "manhood"!

2. Cricket Flour
It may sound disgusting, but at 70g protein per 100g, Cricket Flour is a seriously power-packed source of protein. You can't get it in the UK but you can find it all over Europe.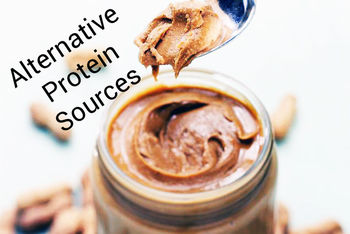 3. Chia Seeds
A member of the mint family, these small seeds pack a relatively powerful punch when it comes to protein. You get 17g of protein per 100g.

4. Quinoa
A very popular grain, Quinoa contains 8 amino acids, thus making it a complete source of protein and you get 14g of protein per 100g.

5. Beans
Up to 18g of protein per 100g, beans are a good source of protein, especially if you are a vegan. They do have the bad side effect of excess gas for some though!
6. Nuts & Seeds
Not very high in protein but still high enough to be considered a source of protein. Nuts and seeds contain as much as 10g of protein per 100g.

7. Avocados
Avocados contain some protein and are great for your body at the same time. However if you want to cram the protein in, you have to eat 15 to equal a check breast!
8. Chick Peas
23g of protein per 100g, make chick peas a good contender for a relatively high protein vegan source.

9. Peanut butter
Peanut butter is made up of 30g of protein per 100g. Although peanut butter is an incomplete source of protein, it does contain the same good agent as red wine and can be beneficial for health.

10. Oats
Not particularly high in protein but very good for health and reducing cholesterol. To get a big protein hit though you have to consume 11 to equal 1 chicken breast.