Friday, 10th February 2012
10 reasons why you SHOULD work out, starting TODAY!
Read 10 unique reasons for joining a gym today
Ever heard the sayings "winning starts with beginning"? Or "boozers are losers?" It's easy to sit at home and make a thousand excuses for not going to the gym from not having the time to not wanting to look like a "body builder"!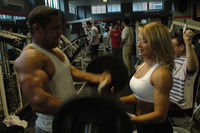 As well as having the gift of life, you also have the gift of being a sculptor! You can sculpt your body to any shape you want, creating a beautiful piece of art if you so desire. There are not many feelings as great as having an outstanding physique. You feel good, you look good, you get admired and you will be healthier for it too.

All it takes is for you to "start". You just have to make a decision that today will be different. Get out, go and join your local gym. Them make yourself the promise that you will go at least 3 times a week, no matter what.

Here are 10 great reasons why you should join a gym and work out:

1. Working out will release anti-stress hormones and relax you.
2. Working out burns calories and makes you lose weight.
3. Working our builds muscle tissue, which makes you stronger, protects your bones and helps burn body fat.
4. Working out gives you confidence to deal with people.
5. Working out gets you away from the computer, TV and other unhealthy, addictive and mind-numbing activities.
6. Working out and building a good body makes you more attractive to the opposite sex.
7. Working out increases your sex hormones, making you more sexually active and confident.
8. Working out can help you socialize and build a new network of like-minded, healthy friends.
9. Working out will help you with many illnesses and potential health problems such as high tension, blocked arteries, skin and digestive disorders.
10. Working out keeps you fit and young. Helps your posture, stamina and overall "being".

Please, make a change today. Join a gym and train for 3 times a week every week. In 2 months, you will wonder why you were putting it off. Life is short and flies by. Improve the quality of your life from today by joining a gym.