Often you hear people gaining incredible amounts of muscle mass in a very short space of time and you wonder if this is true?
There are several ways this can happen:


Illegal hormones, which are unhealthy and detrimental to health for most people
One-off supplements with unique characteristics
Freak genetics
Unless you can change your parents or you want to start using illegal hormones, you only have one choice left to grow real muscles, real fast and that is a unique one-off supplement. But how do you find such a supplement? After-all, "every" supplement by pretty much "every" company says claims to do just that!!!
Here's a good place to start. Take something that has a track record of doing exactly what you are after: building really big muscles, really fast.
Explosive Creatine: No ordinary Creatine with a 14 year track record!
No other Creatine has the track record of the scientifically formulated
Explosive Creatine
. This very powerful Creatine has kept the same formula for the last 14 years BECAUSE IT WORKS! And it is the closest thing you can legally get to put as much as 15 lbs of lean muscles in just a couple of weeks.
"Highly recommended Creatine" Men's Health Mag

"300% stronger than all other Creatines" Muscle & Fitness Magazine

"Best Results" Men's Health Magazine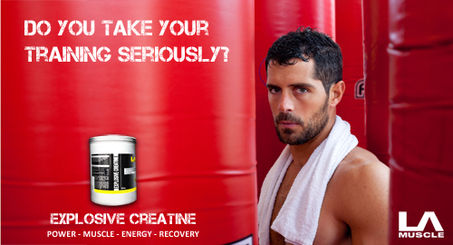 Follow these instructions for up to 15 lbs in around 2-3 weeks
If you are on Creatine or have taken Creatine in the past 4 weeks, stop usage. Wait for 2 weeks before starting
Explosive Creatine
. In that time, drink 2 litres of water every day. If you have never taken Creatine or have not taken any Creatine for the past month, then you can start
Explosive Creatine
immediately.
Day 1 - Take 3 scoops of
Explosive Creatine
, taking each scoop with lots of water. Take it morning, afternoon and night. If you are training, you can take 2 of the scoops just before and after training (1 just before and 1 after).
Day 2 - Same as day 1.
Day 3 - Same as day 1.
Day 4 - Same as day 1.
Day 5 - Same as day 1.
Day 6 - Take 2 scoops every day. On training days, take 1 scoop with lots of water just before training and 1 scoop mixed with lots of water just after. On non training days, take one in the morning and one in the evening.
Day 7 - Same as day 6.
Day 8 - Same as day 6.
Day 9 - Same as day 6.
Day 10 - Same as day 6.
Day 11 - Take 3 scoops a day.
Day 12 - Take 3 scoops a day.
Day 13 - Take 2 scoops a day. On training days, 1 just before and 1 just after. Non training days: one in the morning, one in the evening.
Day 14: Same as day 13.
You can carry on taking 2 scoops a day up to day 30. By around day 14, you should see some incredible gains in muscle size.
The training you should follow in the gym
Explosive Creatine
responds best to heavy, compound movements and bodybuilding/powerlifting type exercises with explosive power.
You should try and do the following routine:
Monday: Chest, shoulders and triceps
Bench press, close grip bench press, triceps push-down, shoulder press
Tuesday: Rest

Wednesday: Back & Biceps
Bent-over rows, deadlifts, pulldowns, bicep curls
Thursday: Rest.

Friday or Saturday: Legs
Squats, hamstring curls, leg extensions
Sunday: Rest
Go hard and heavy, using good form, doing 3 x 8 reps. You have to do the heaviest weight you can handle and you MUST increase weight on every set every time you hit the gym. i.e. if you bench press 70kgs on Monday, then next Monday you must do at least 75 kgs (or more, or less but no less than 71 kgs).
Drink lots of water during the day, as much as 2-3 litres if you can. Take a quality protein powder like
LA Whey
to speed up recovery and improve muscle building.
Start experiencing
Explosive Creatine
today and take advantage of LA Muscle's special offer on this supplement.
Explosive Creatine
contains 5 incredible uptake agents that guarantee amazing results in just 2 weeks.
Explosive Creatine
is super-micronised for instant absorption, has no impurities and comes in a delicious berry flavour. You just have to mix it with water and drink.
As with all LA Muscle supplements,
Explosive Creatine
comes with a 100% no-questions money-back guarantee. If you don't LOVE it and you don't find that you have gained the most amount of muscle anticipated, you will get 100% of your money back even if you have used the whole tub.