Mother of two, entrepreneur and devoted wife. Read how this amazing woman turned her life from poverty stricken, to high flying success.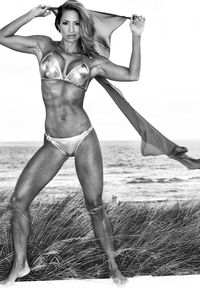 If you didn't know the name already, Jennifer Nicole Lee is one of the world's TOP female physique models in today's industry with appearances on the front covers of magazines such as Muscle & Fitness, Oxygen, Body Mag, Fitness RX, Style and OnFitness to name just a few.
Jennifer is an Author, Fitness Expert, Lifestyle Consultant, Fitness Model™ and most importantly a devoted wife and mother. Her motivational weight loss success story has been featured on The Oprah Winfrey Show, The CBS Early Morning Show, Fox & Friends, Inside Edition, & The Big Idea with Donny Deutsch, thus inspiring millions.
She continues to share and shine her light, helping others realize and achieve their lifestyle goals, believing that everyone deserves a better life.

LA Muscle caught up with the lovely JNL at her Los Angeles pad and asked her "What's the secret to your success?" and "how can millions of other women around the world benefit from what you preach so heavily"?
Even though her road to stardom almost seemed like it happened over night, this could not be further from the truth. At a very early age, JNL struggled in her life on all fronts.
Her parents divorced when she was just 12 months old, leaving her mum and three siblings to fend for themselves. By 13, Jennifer Siciliano as she was known then, had become used to living a poverty sticken life.
Times were harsh for this first generation Italian who lived in a small southern town in Tennessee suffering racial attacks for her dark olive tone skin. Though her mother could not provide even the basic necessities, she did equip Jennifer with the tools to succeed no matter what came her way.
Jennifer recalls "Even though my mum couldn't give us toys, she did give us the greatest gift of all, the gift of learning how to never give up."
It's this fearless (and sometimes ferocious) free spirit that landed JNL the nickname "La Tigra", which translates to "The Tigress". It is this invincible spirit that JNL tries to inspire in others when she works with them either in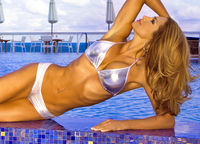 the gym, on her consultations, at the JNL Bikini Boot Camps, or in her Fitness Evolution Program – www.jennifernicolelee.com for more info.
"It's my mission to help everyone increase the quality of their life. If I help one person realize their true potential, then I have succeeded" Jennifer Nicole Lee
After years of yo-yo'ing up and down on the scales, suffering from emotional eating, and being a size 6 to a size 16 and everywhere in between, JNL lost an astounding 70 pounds leading her to be crowned Miss Bikini America after the birth of her second child. In 2006, at the age of thirty-one, Jennifer Nicole Lee was crowned the first ever Miss Muscle and Fitness, making her one of the most sought after fitness models in the world.
Today, Jennifer Nicole Lee works day in day out to help others achieve their goals and ambitions within health and fitness. Here, Jen shares her top 20 tips to get you started on the road to fulfilment:
Eat breakfast like a QUEEN! You need it in order to work with your metabolism & rev it up for the day!
Don't eat whole grain carbs after 4:00 PM
Eat healthy fats, like avocado, coconut oil and flax seed oil! Your body needs it!
Don't be a cardio queen! Focus somewhat on weight training too.
Get your rest! It's the other side of the coin to working out and eating right!
Treat your body like a temple! Try to eat as close to nature as you can!
Make sure you get proper amounts of protein, about 1 gram per lb of body weight.
Think healthy thoughts! If you think healthy you will be healthy – NLP!
Make a healthy fit lifestyle fun! Choose to enjoy it, and don't look at it as a chore.
Exercise in the morning after breakfast if you can. You will burn more calories throughout the day.
Don't over train! Do no more than 5 days of working out, and no less than 4.
Flatten your stomach by eating fibre rich foods.
Build a fitness friend network around you! Be around similarly like minded healthy friends, and your new lifestyle will be easier to keep!
Drink a post workout protein shake! Contrary to belief, protein helps repair muscle fibre and will help recovery, allowing you to feel more energetic. Taken at the right time and with the right workout, protein will not add weight – see LA Whey 2.2KG protein.
Don't be afraid of "getting bulky". You have to lift heavy to see results suited to you!
Keep your goal right in front of you, so you stay focused and committed!
Eat antioxidant rich foods! Your body will thank you!
Drink tons of water! Your body is made up of 75% water, so keep yourself hydrated
Forget the "all or nothing" mentality! Even if you have 20 minutes to exercise, do it!
And don't suffer from "I-Want-To-Be-Fit-Now-itis!" Give yourself the gift of time and enjoy your new fit lifestyle, one day at a time!!! There are ingredients such as L-Carnitine that help speed up metabolism, and suppressing hunger which certainly help. See Thermo24.
Jennifer Nicole Lee's exclusive interview and videos can be viewed right HERE, at LAMuscle.TV