I'm under 18, can I take Muscle Builders?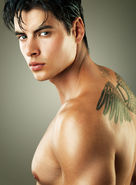 Many of LA Muscle's supplements are not recommended to anyone under 18.
If you are under 18, then you are growing anyway so you definitely do not need and MUST NOT take any male hormone boosters.
You should ideally not take any fat burners either. So young, you should be doing a good exercise and have a great diet and should not be getting fat!
If you want to build more muscle and you are under 18 and over 16, you can take products like: