The Lounge > Recipes >
Shrimp Scampi
Shrimp Scampi
Ingredients: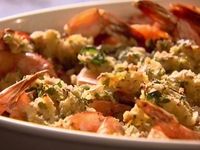 • 5ml Olive Oil
• 1 pound uncooked shrimp, peeled and deveined
• 1 medium green onion, diced
• 3g tsp garlic powder
• 5g basil
• 3g tsp parsley
• 10ml lemon juice
• 10gparmesan cheese
Directions:
1. In a 10" skillet, heat oil over medium high heat.
2. Add shrimp and all ingredients. Cook 3-7 minutes (depends on size of shrimp, smaller shrimp cook faster.)
3. Remove from heat; sprinkle with parmesan cheese. Serving size=1/4 of shrimp.
4. To make dividing it up easier, spread out the shrimp and divide the pan into quarters, each quarter is a serving.

Nutrition Value:
Protein: 19g
Calories: 143g
Carbs: 3g