The Lounge > Recipes >
Goats Cheese & Spinach Turkey Burgers
Simple Healthy Burger option
Ingredients: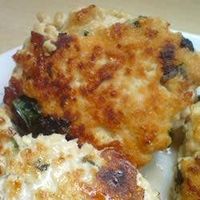 • 675g (1 1/2 lb) minced turkey breast
• 175g (6 oz) frozen chopped spinach, thawed and drained
• 75g (3 oz) soft goat's cheese, crumbled

Directions:
1. Preheat the oven grill.
2. In a medium bowl, mix minced turkey, spinach and goat cheese. Form the mixture into 4 patties.
3. Arrange patties in baking dish or tray, and place under grill.
4. Grill for 15 minutes, or until browned on both sides.
Nutrition Value:
Protein 31.6 g
Calories 275.7 kcal