The Lounge > Recipes >
Chocolate Peanut Butter Protein Bars/Brownies
Recipe sent into us by Personal Trainer, Nutritional Advisor and Fitness Model Adam Bates.
Ingredients: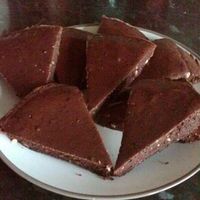 • 1 cup of oats, ground to flour.
• 6 and 2/3 scoops LA whey Chocolate flavour
• 1/2 cup low fat dry milk powder.
• 2/5 cup unsweetened organic cocoa powder
• 3 egg whites
• 1 tsp vanilla essence
• 3 heaped tbsp natural organic peanut butter (approx 100g)
• 1 tbsp Chocolate syrup
• 1 cup water
• 2 tbsp Stevia
Directions:
1. Pre-heat oven to 180 degrees (for fan assisted ovens). Mix dry ingredients in a large bowl. Mix all the wet ingredients, minus the water, together. Add the wet ingredients to the dry ingredients and mix together whilst gradually adding the water. When the ingredients are thoroughly mixed together pour into a baking tray (lined with wax paper to prevent sticking). Cook for 15 minutes. Cut into 8 pieces and allow to cool!