The Lounge > Recipes >
Brown Rice Tofu Maki
Brown Rice Tofu Maki
Ingredients: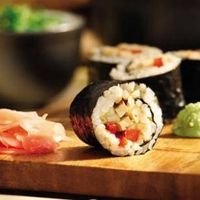 • 240ml water
• 112g short-grain brown rice
• 3 tablespoons mirin,
• 3 tablespoons reduced-sodium soy sauce
• 7g sugar, divided
• 155ml rice vinegar
• 1/2 teaspoon salt
• 8 sheets toasted nori seaweed,
• 32 matchstick strips flavoured baked tofu, such as Thai or teriyaki
• 32 matchstick strips red bell pepper,
• 32 matchstick strips peeled and seeded cucumber, (about 1/2 small)
• 5 tablespoons unsalted roasted peanuts, chopped
Directions:
1. Bring water to a boil in a large saucepan over medium heat. Stir in rice, reduce heat to low, cover, and simmer at the lowest bubble until the rice is tender, about 50 minutes.
2. Remove from the heat and let stand, covered, for 10 minutes.
3. Meanwhile, stir mirin, soy sauce and 1 1/2 teaspoons sugar in a small skillet. Bring to a simmer and cook until slightly thickened, about 3 minutes.
4. Spread the warm rice evenly on a large rimmed baking sheet.
5. Whisk vinegar, the remaining 2 teaspoons sugar and salt in a small bowl; drizzle over the rice.
6. Toss with 2 spatulas until cool enough to handle and slightly sticky.
7. Place a nori sheet on a bamboo sushi-rolling mat & quotshiny side down with a shorter end close to you. Wet your hands and pat about 3/4 cup of the seasoned rice into a thin layer on the sheet, leaving a 1-inch border at the top of the sheet (the short side on the far side of the mat).
8. Drizzle 1 teaspoon of the mirin sauce about 1 inch from the bottom of the rice; place 4 strips each baked tofu, bell pepper and cucumber over the sauce; then sprinkle with about 2 teaspoons chopped peanuts.
9. Using the bamboo mat to help you, roll the maki closed, getting the mat out from inside the maki as it rolls up. Gently press the closed mat over the roll to seal the roll
10. Trim any ragged edges and slice into 6 pieces with a wet sharp knife.
11. Repeat Step 4 with the remaining nori, rice, tofu and vegetables. Serve the rolls with any remaining sauce.

Nutrition:
295 calories; 50 g carbohydrates; 2g added sugars; 10 g protein.