The Knowledge > News & Gossip >
Friday, 13th January 2006
Craig Titus case re-scheduled
By LA Muscle on 13.01.2006 02:14 pm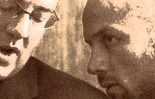 Here is the latest, courtesy of Associated Press. We hear that a court date has been re-scheduled in Massachusetts for Craig Titus and Kelly Ryan accused of killing their personal assistant in Las Vegas.
A hearing for Craig (40 years old) and Kelly (33) was pushed back from Thursday to 8th February in Stoughton, Massachusetts.
Titus and Ryan have pleaded innocent to fugitive charges and are desperately fighting extradition to Las Vegas, Nevada to answer murder charges in the slaying of 28-year-old Melissa James, whose body was found on 14th December in the trunk of Kelly Ryan's burned-out Jaguar off a higway outside Las Vegas.
An alleged accomplice, Anthony Gross has been freed on house arrest after posting $10,000 bail. He was arrested in December in Las Vegas.