The Knowledge > News & Gossip >
Friday, 27th October 2006
Angel McKenzie wins at Elephant & Castle
By LA Muscle on 27.10.2006 09:00 am
Our sponsored athlete Angel McKenzie won her recent fight at the Fusion Leisure Centre, Elephant & Castle on October 21st. It was Angel's third professional fight in Britain. Her opponent Sara Davis, coming down form Derby for her first professional fight had weighed in at 14lbs heavier than Angel. For that reason the stewards were forced to reschedule the bout as an exhibition contest. This was a real dissapiontment for Angel, she didn't give up at all though.
There was no doubt about who is the winner, the crowd loved Angel and she's definitely deserved the admiration.
Angel uses Pro-Tein Drinks to ensure her body gets enough proteins on a daily basis.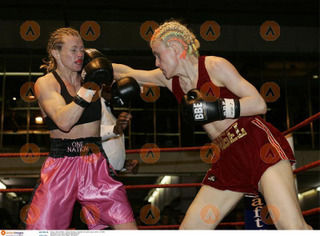 Photo courtesy of Action Images.