What is the strongest Creatine?
All LA Muscle Creatine formulas are amongst the strongest on the market. Explosive Creatine was voted as 300% more stronger and more effective than all other Creatines by Muscle & Fitness Magazine.
If you have never taken Creatine before, then it is suggested that you start on Explosive Creatine which is an extremely effective and powerful Creatine formula that works instantly for everyone. It has all the best uptake agents, comes as a pre-mixed delicious fruit punch drink and you just have to mix it with water.
If you are a bodybuilder and want to get big and strong fast, then you can try LA Muscle's amazing Nuclear Creatine which is a very potent Creatine supplement plus special ingredients which increase the "pump" when working out, giving you better contractions and making you look instantly bigger in and out of the gym.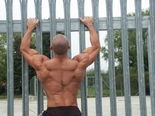 Whatever your choice, you can be 100% assured that LA Muscle's Creatines are the very best on the market at 100% purity with NO IMPURITIES. Not all Creatines are created equal.