The Knowledge > Exclusive Articles >
Wednesday, 19th August 2015
Classic forgotten photos: Muscle Beach
Bodybuidlers on Venice Beach, heart of bodybuilding
By LA Muscle on 19.08.2015 09:35 am
Muscle Beach at Venice Beach California is without doubt the number 1 place where modern day bodybuilding started and grew. Anyone that is known in bodybuilding has been photographed there at some stage and bodybuilders from all over the world who love their bodybuilding make sure they pay a visit there at least once in their lifetime.
Some of the best bodybuilding photos are those from Venice Beach and in particular Muscle Beach, where famous bodybuilders work out right there on the beach in front of your eyes. Below you can see some amazing classic photos from yesteryear and the heyday of bodybuilding. Enjoy!
Classic beach shot with Reg Park, Dave Draper and Arnold Schwarzenegger
Fantastic classic bodybuilding photo with Steve Reeves AKA Hercules and Reg Park to name a few
Muscle Beach 1948! A bodybuilder entertains the crowds!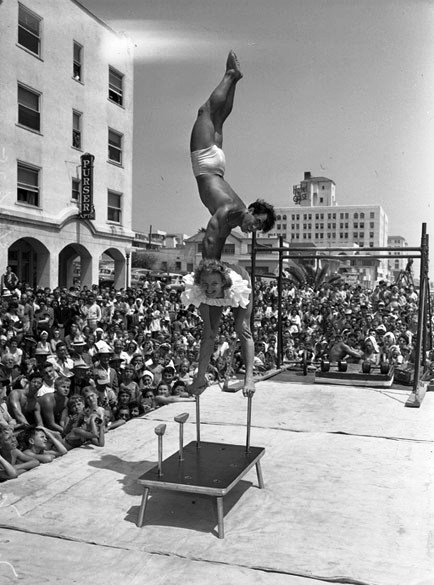 Arnold Schwarzenegger and his best friend Franco Columbo impress two ladies! Classic Venice Beach Photo!
Another classic Venice Beach muscle photo from the past
Muscle Beach 1971, 3 bodybuilder doing their stuff!
A crowd admires the body of Hercules Steve Reeves! Poor man, give him a break!
The great Mr Legs Tom Platz waking a walk down Venice Beach, classic bodybuilding photo for sure!
The great "Zabo" Kosweski with his friend Vince
Steve Hercules Reeves, said by some to have had the best, most aesthetic physique of all time
Reg Park and Arnold Schwarzenegger taking a dip near Venice Beach
Arnold Schwarzenegger impressing another lady on Venice Beach California, classic bodybuilding photo!
The great Franco Columbo lifting crazy weights. As a powerlifter he was sure impressive with the weights!
No history of Venice Beach and Muscle Beach would be complete without the great Joe Weider, seen here with Betty Weider, Franco Columbo and Arnold Schwarzenegger
The 80s was an interesting decade for Muscle Beach. Here is a classic 80s shot!
And one last one of Venice Beach in the 80s