The Knowledge > Recipes >
Friday, 27th February 2015
Pineapple Turkey Burgers
This unique pineapple turkey burger recipe brings fruit and meat together. Pineapple contains beneficial digestive enzymes.
By LA Muscle on 27.02.2015 10:20 am
Ingredients: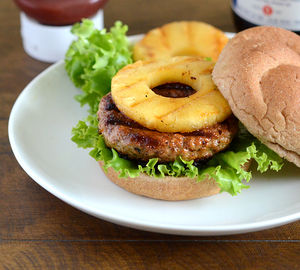 1 pound ground turkey breast
3 tbsp. oats
2 tbsp. pineapple juice
1/2 cup pineapple chunks, finely diced
2 tbsp. finely diced onion
1 tbsp. olive oil
1/4 cup low-fat mozzarella cheese
4 whole wheat buns
4 tbsp. fat-free mayonnaise
Lettuce
Tomato
Onion slices
Directions:
Combine ground turkey, oats, pineapple juice, pineapple chunks, with diced onion.
Heat olive oil in a skillet (or on a grill) on medium heat and once bubbling, lay the burgers in the skillet.
Cook for 5-7 minutes per side or until cooked.
Once there's about one minute left on the second side, layer the cheese on top and cook until melted.
Serve on top of the buns with mayonnaise, lettuce, tomato, and onion slices if desired.