The Knowledge > Recipes >
Friday, 5th June 2015
Cheat Day Satay Chicken and Spaghetti
Dean Burchell's chicken satay and spaghetti recipe is a must try!
By LA Muscle on 05.06.2015 09:58 am
Dean introduces his cheat day chicken satay with spaghetti. Using LA Peanut Butter, crunchy or smooth dependent on your preference, Dean has created an amazing blend of spice and flavour, resulting in a delicious peanut satay sauce that works perfectly with the chicken and spaghetti. A must try for anyone keen in the kitchen, and it packs a mean protein hit, well balanced with fresh vegetables, low GI spaghetti and healthy fats from the 100% peanut butter. Enjoy!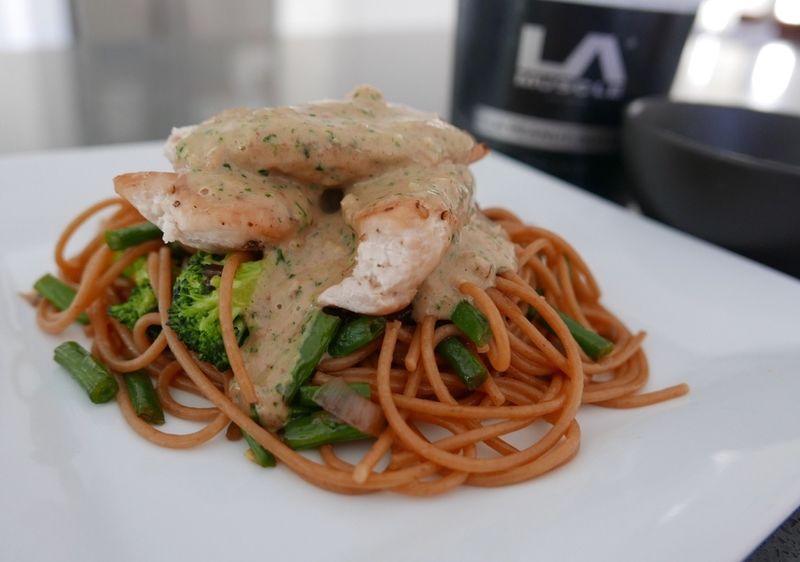 Ingredients (serves 1)
Satay Sauce
1 clove of Garlic
1 tsp Ginger
Juice of half 1 Lime
1 Chilli
Splash of Soy Sauce
Small bunch of Coriander
3 heaped tbsp LA Peanut Butter
Splash of water
Spaghetti Dressing
Half of 1 Red Onion
1 Chilli
Juice of half 1 Lime
1 tsp Fish Sauce
2 tbsp Extra Virgin Olive Oil
Small bunch of Coriander Stalks
Splash of Soy Sauce
1 tbsp Honey
1 Chicken Breast Fillet
Wholemeal Spaghetti
Onion
Green Beans
Broccoli
Handful of Walnuts
Salt & Pepper
Coconut Oil
1. Chop the onion, green beans and broccoli, and set aside.

2. Slice the chicken breast and skewer.

3. Blend the satay ingredients and place one half into a dish and set aside.

4. Smother the other half over the skewered chicken.

5. Grill for approximately 8 minutes a side, whilst cooking your spaghetti an stir frying your vegetables, walnuts and spaghetti dressing.

6. Serve the spaghetti on a plate topped with chicken and satay sauce.
7. Serve the dish alongside the side of dipping satay sauce.