The Knowledge > Recipes >
Tuesday, 16th October 2012
Tuna and Cheese Melt
Tuna and Cheese melt Patty packed with protein.
By LA Muscle on 16.10.2012 10:53 am
Ingredients: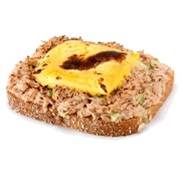 1 can of tuna
2 Tablespoons of oatmeal
1 egg white
Diced onion to taste
Fresh, minced garlic to taste
1/3 ounce mozzarella or cheddar cheese
Salt and pepper to taste
Method:
1. Place all ingredients into a mixing bowl.
2. Mix, or mash ingredients together, and form into a patty.
3. Place patty into a frying pan, and cook over medium heat.
4. Cook until slightly brown on both sides.