The Knowledge > Recipes >
Tuesday, 16th October 2012
Smoked Salmon Omelette
Protein packed Smoked Salmon Omelette
By LA Muscle on 16.10.2012 10:09 am
Ingredients: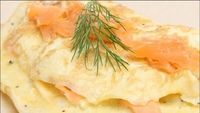 3 Large Eggs
150g Smoked Salmon
1 floz milk 2%
1 Tsb dried dill
Low Fat Cheddar Cheese (grated)
0.5 tbsp Extra Light Olive Oil
Method:
Mix the eggs and milk together add the dill .
Heat the oil in a frying pan, add the eggs when starting to set add the smoked salmon, then sprinkle the cheese over the omelette, then place the pan under the grill until cheese has melted and starting to brown ,you will find by placing omelette under grill it rises almost like a soufflé.
When done cut into quarters and serve with salad.