The Knowledge > Recipes >
Monday, 9th February 2015
Sesame-Orange Chicken
An excellent source of protein, vitamin B6, selenium, phosphorous and niacin. Including chicken in your diet helps to provide your body with loads of energy and strengthens the immune system.
By LA Muscle on 09.02.2015 10:36 am
Ingredients: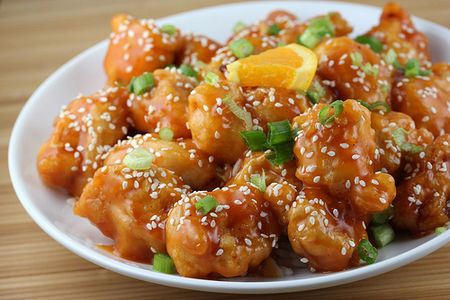 1 tbsp of mixed spices, pepper, red or cayenne
2 x 1 tbsp Sesame Seeds, Toasted
4 x Skinless Boneless Chicken Breast
1 x tbsp Cream, whipped, cream topping, pressurized
1 x serving 1 container CAMPBELL'S Low Sodium Soups, Chicken Broth
0.5 x 100 ml Orange, fruit, raw, juice
Directions:
Add sesame seeds, orange zest, salt and red pepper in a blender and process till you get a mixture that closely resembles coarse meal.
Place the chicken breast between 2 plastic sheets and pound it using a rolling pin till you get ¼-inch meat. Now sprinkle a little salt over the pounded chicken.
Heat canola oil and butter in a pan over medium heat until butter melts. Add chicken and cook both the sides until it is sufficiently done. Remove the chicken from pan and keep it warm.
Add sesame mixture to pan and stir well. Now add chicken broth and bring the mixture to a boil. Cook the mixture until it is reduced to 2/3 cup.
Add whipped cream and orange juice to the reduced sesame mixture and cook for a few seconds. Serve the sauce with chicken.