The Knowledge > Recipes >
Tuesday, 27th March 2012
Seared Ahi Tuna steaks
Nutritious Seared Ahi Tuna steaks. A simple yet very impressive protein rich meal
Ingredients: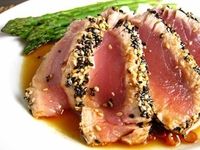 15ml balsamic vinegar
12 oz Ahi tuna steaks
15ml soy sauce
8ml lemon juice
1 clove garlic
14g fresh grated ginger
1 small green onion
Directions:
Mix balsamic vinegar, garlic, soy sauce, ginger, green onion and lemon juice in a large bowl.
Marinade the tuna steaks, place in a bowl and tightly cover with cling-film. Refrigerate this for at least an hour.
Heat a non-stick skillet over medium-high to high heat. When the pan is hot, place the steaks on the skillet and sear them for 1 minute to 1 1/2 minutes each side.
Remove from pan and slice them as you wish.
You can top with lettuce, vegetables or brown rice.
Nutrition Value:
Protein 41g
Carbohydrates: 5g
Calories: 206 kcal