The Knowledge > Recipes >
Monday, 2nd April 2012
Delicious Protein Brownies
Choc Brownies with a protein Kick!
Ingredients: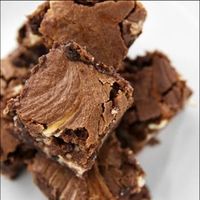 220g cups Splenda
200g all purpose unbleached flour
75g cocoa powder, sifted
2 Scoops LA Whey Chocolate Protein Powder
30g semi-sweet mini chocolate morsels
5g baking powder
3g baking soda
75g chopped walnuts
2 egg whites
400ml light vanilla yogurt
30ml fat-free milk
Pam Low Fat Cooking Spray
5ml vanilla extract
Directions:
Preheat oven 350°F
In a large bowl, mix Splenda, flour, cocoa, LA Whey protein powder, 1 tbsp mini morsels, baking powder, baking soda and chopped walnuts. (Reserve 2 tbsp walnuts for topping).
In a separate bowl, mix egg whites, vanilla yogurt, fat-free milk and vanilla extract.
Slowly add dry mixture into wet mixture and blend thoroughly using a spatula.
Spray an 8 x 8 inch pan with non-stick cooking spray and pour mixture into pan.
Top mixture evenly with last the tbsp of mini morsels and walnuts. Bake for 30 minutes.
Cool and serve.
Makes 18 servings
Nutrition Value: Per Serving
Protein: 11g
Carbohydrates: 9g
Calories: 103 kcal