The Knowledge > Recipes >
Monday, 14th May 2012
Peanut Butter Cookies
Delicious Peanut butter cookies
By LA Muscle on 14.05.2012 11:26 am
Ingredients: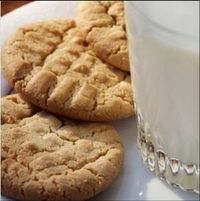 452g oat flour
2 Scoops LA Whey (flavour of your choice)
½ tsp. salt
½ tsp baking soda
125ml applesauce
260g peanut butter
125ml honey
2 egg whites
Directions:
1. Mix flour, protein powder, salt, baking soda and set aside.
2. Mix applesauce and peanut butter. Add honey.
3. Mix well and add egg whites, then beat well.
4. Stir flour mixture into peanut butter mixture.
5. Drop dough from tsp. onto greased baking sheet.
6. Flatten. Bake at 375 (moderate oven) for 10 to 15 minutes until lightly browned.
Makes 36 cookies.
Nutrition: Per Cookie
Calories: 96kcal
Protein: 5g
Carbohydrates: 10g