The Knowledge > Recipes >
Tuesday, 27th March 2012
Oatmeal Cookies
Post Workout Oatmeal Cookies, Blended with the right Carbs and Protein to ensure optimal muscle recovery and growth
Ingredients: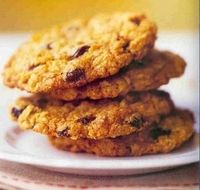 80g Oats
150g coconut flour
113g splenda
15g chia seed
15g baking powder
30ml vegetable oil
4 eggs
113g raisins
113g walnuts
2 Scoops LA Whey flavour of your choice
Directions:
Mix all dry ingredients.
Mix oil and eggs, add to dry mixture.
Add raisins and walnuts.
Spray a cookie sheet with pan spray.
Drop by teaspoon onto cookie sheet and bake at 350F for 20 minutes, or until brown.
Nutrition: Per Cookie
Protein: 9g
Carbohydrates: 6g
Calories: 103 kcal