The Knowledge > Recipes >
Wednesday, 8th August 2012
High Protein and Low Carb Steak Salad
Tender Steak Salad
By LA Muscle on 08.08.2012 04:12 pm
Ingredients: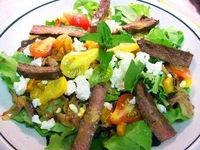 150 gram Steak
2 red, orange or yellow peppers (or a combo)
1 large yellow onion - sliced into 1/2 moons
Grape or cherry tomatoes - cut in 1/2
1 cup crumbled feta cheese
Your choice of greens: red leaf, arugula, spinach,
Directions:
1. Grill the Steak
2. While your steak is grilling, chop up the salad and get it ready.
3. Place the salad on the plate
4. Once the steak is cooked, slice thinly and add it on top of the salad.
Eat and Enjoy.