The Knowledge > Recipes >
Thursday, 14th June 2012
Lemon and Thyme chicken
Lemon and Thyme roasted Chicken
By LA Muscle on 14.06.2012 09:58 am
Ingredients: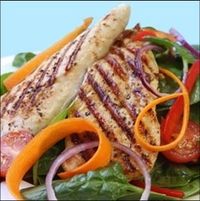 One 3 Chicken Breast's
1 tsp freshly ground black pepper
1/2 teaspoon salt
2 large lemons
6 garlic cloves, peeled
Six 4" fresh thyme sprigs or 2 teaspoons dried thyme leaves
Additional fresh thyme sprigs, to garnish
Method:
Preheat oven to 350deg F.
Sprinkle chicken with 1/2 teaspoon of the pepper and 1/4 teaspoon of the salt.
On work surface, roll lemons, pressing down slightly with heel of your hand, (go easy since I know you weight train, press lightly) until softened.
With skewer or toothpick, pierce each lemon 15 times about 1" deep. Sprinkle chicken evenly with remaining 1/2 teaspoon pepper and 1/4 teaspoon salt.
Place chicken, breast-side up, onto rack in large roasting pan; roast 30 minutes – 1 hour until chicken is cooked through and juices run clear when pierced with fork
Remove from oven; let stand 10 minutes. Remove and discard skin from chicken and lemons, garlic and thyme
Nutrition: Per Serving
Calories: 165g
Protein: 15g
Carbohydrates: 1g