The Knowledge > Recipes >
Tuesday, 27th March 2012
Jacket Potatoes
A great lunch time meal with the right blend of protein and carbohydrates to keep your muscles fuelled
Ingredients: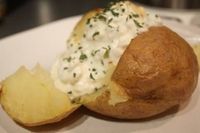 1 medium Potato
113g Low-Fat Cottage Cheese
54g Low-Fat Cheddar Cheese
125ml Salsa
54g chopped Green Onions
Directions:
Bake potato in the microwave until cooked through.
Slice in half so that you can spread it open for the filling.
Next sprinkle over 54g of cheddar cheese and if an oven is available, place under the broiler for about one minute until melted slightly.
Top with salsa next and then spoon on cottage cheese and green onions. If you prefer your cottage cheese melted then you can layer it on before the salsa. Serve immediately.
Nutrition Value:
Calories: 236kcal
Protein: 22g
Carbohydrates: 30g