The Knowledge > Recipes >
Thursday, 5th July 2012
Grilled turkey
High Protein Grilled Turkey Salad, Low in carbs and great as am evening meal containing 33g of Protein per serving!
By LA Muscle on 05.07.2012 09:32 am
Ingredients: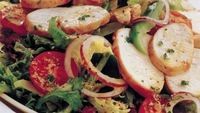 200 grams Turkey Breasts, grilled
12 to 16 cherry tomatoes, cut in ...half
12 to 16 small mushrooms, cut in half
1 small red onion, peeled, thinly sliced, separated into rings
1 medium sweet red pepper, cored, seeded and cut into long thin strips
1/2 cup parsley, coarsely chopped
1/2 cup Dijon mustard dressing,
4 cups torn mixed salad greens, chilled and divided
Coarsely ground black pepper
Method:
1. With a sharp knife, cut grilled turkey across the grain into 1-1/2 " x 1/4" strips.
2. In a large bowl, combine turkey, tomatoes, mushrooms, onion, sweet red pepper strips and parsley.
3. Add Dijon dressing, tossing lightly to coat turkey and vegetables thoroughly.
4. Arrange about 1 cup crisp torn mixed salad greens on each of 4 small dinner plates.
5. Spoon turkey mixture onto lettuce-lined plates, dividing evenly.
6. Sprinkle each salad lightly with coarsely ground black pepper.

Nutrition:
Calories: 300 kcal
Protein: 33g
Carbs: 12g