The Knowledge > Recipes >
Tuesday, 3rd February 2015
Greek-Style Turkey Burgers
Great recipe for bulking season
By LA Muscle on 03.02.2015 11:56 am
Ingredients: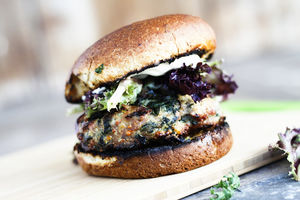 1 lb ground turkey
1 cup crumbled feta cheese
1/2 cup kalamata olive, chopped
1 teaspoon dried oregano
1 teaspoon italian seasoning
1 teaspoon dried parsley
1 teaspoon dried basil (optional)
1 teaspoon onion powder
1/2 teaspoon garlic powder
Ground black pepper, to taste
Directions:
1. Combine all the ingredients in a large bowl.
2. Form into 4 patties, then grill.
3. Serve with whole wheat buns or pita, tomatoes, lettuce and mayo,