The Knowledge > Recipes >
Monday, 23rd April 2012
Finger Licking Protein Fried Chicken
Guilt free fried chicken, high protein and lower calories. Easy and quick to prepare. Feed your muscles not your belly!
By LA Muscle on 23.04.2012 11:16 am
Ingredients: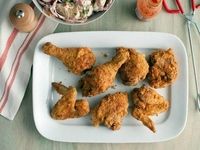 • 3 eggs
• 1/3 cup water
• 5 cups of self- rising flour
• 1 teaspoon pepper
• House seasoning, recipe follows
• 1 (1 to 2 1/2-pound) chicken, cut into pieces
• Lightly Spray Cooking Oil, for frying (Spray enough to cover the pot)

Directions:
In a medium size bowl, beat the eggs with the water.
In another bowl, combine the flour and pepper.
Season the chicken with the house seasoning.
Dip the seasoned chicken in the egg, and then coat well in the flour mixture.
Heat the oil to 350 degrees F in a deep pot.
Fry the chicken in the oil until brown and crisp.

House Seasoning:
• 1 cup salt
• 1/4 cup black pepper
• 1/4 cup Garlic powder

Nutrition Value Per Chicken –
Kcal – 235
Protein – 26g
Carbs: 3g