The Knowledge > Recipes >
Tuesday, 9th December 2014
Chicken burgers with chunky veggie salsa
Delicious, high protein lean chicken burgers
By LA Muscle on 09.12.2014 11:34 am
Ingredients: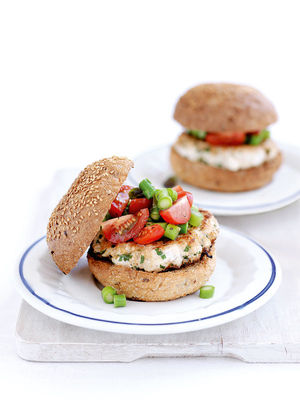 500g chicken breast fillets, cut into 4cm pieces
1/2 onion, very finely chopped
2 cloves garlic, crushed
2 tablespoons chopped flat-leaf parsley
cooking oil spray
2 lemons, halved
1 bunch asparagus, trimmed, chopped into small pieces
350g cherry tomatoes, quartered
4 wholemeal bread rolls, halved, toasted
Directions:
Step 1 Place chicken into a food processor. Pulse until coarsely chopped, then transfer to a bowl. Add onion, garlic and parsley. Season with pepper. Form mixture into 4 patties.
Step 2 Spray a large frying pan with oil and place over medium-high heat. Cook patties for 4–5 minutes on each side, or until cooked through. Add lemons to pan, cut side down, for last 2 minutes of cooking time.
Step 3 Meanwhile, steam asparagus until just tender. Remove and toss with tomatoes and juice from one lemon half. Place patties on toasted rolls, then top with asparagus and tomatoes. Cut remaining lemon halves into wedges to serve with burgers.
Serves 2