The Knowledge > Recipes >
Wednesday, 4th April 2012
Baked Salmon
Delicious protein packed Baked Salmon with essential fatty acids
Ingredients: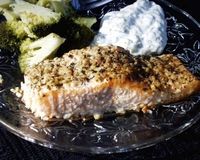 2 garlic cloves , minced
60ml light olive oil
15g dried basil
5g salt
5g ground black pepper
15ml lemon juice
15g fresh parsley , chopped
2 (6 ounce) salmon fillets
Directions:
1. In a medium glass bowl, prepare marinade by mixing garlic, light olive oil, basil, salt, pepper, lemon juice and parsley.
2. Place salmon fillets in a medium glass baking dish, and cover with the marinade.
3. Marinate in the refrigerator about 1 hour, turning occasionally.
4. Preheat oven to 375 degrees F (190 degrees C).
5. Place fillets in aluminium foil, cover with marinade, and seal.
6. Place sealed salmon in the glass dish, and bake 35 to 45 minutes, until easily flaked with a fork.
Nutrition Value: Per serving:
Calories: 470kcal
Protein: 39g
Carbohydrates: 2g