Sunday, 18th January 2009
The new Gladiators are ready...
12 new Gladiators have been chosen from over 20,000 applicants. Two of them are Caroline Pearce as Ice and Nick Aldis as Oblivion.
Gladiators ready...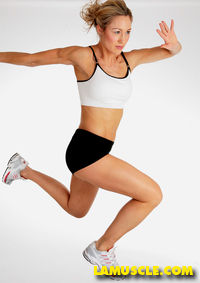 We know of two Gladiators that are definitely ready and very able for the job.
The Gladiators are back on prime-time TV. When news came out that the Gladiators are going to be on your screens again, thousands of hopefuls went for the auditions. Musclemen, athletes, tough guys and gals, martial artists, they were all up for it.
Out of over 20,000 applicants, 12 were chosen. One of them was Mr Adonis himself Nick Aldis, now known as Oblivion. The other is none other than beautiful Caroline Pearce, one of the most searched for names on lamuscle.com.
Funnily enough, Nick and Caroline had already met a while back when making the LA Muscle "Athletes DVD". Who would have thought they would be picked out of 20,000 people to be in the Gladiators.
Nick's combination of good looks, wrestling power and muscular body make him perfect for the role as a Gladiator. He is definitely not shy on camera and is a natural performer.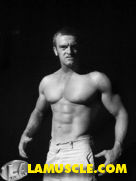 As for Caroline, we predict she will be the most talked about Gladiator and will become a major celebrity. Caroline has been a star in the making for a while and this is the break that will show to the world just what this lady is capable of. Caroline is beautiful, well-toned, tough and intelligent at the same time.
The Gladiators is going to be a major "must watch" programme on your screens. We wish both Nick and Caroline lots of luck. Well done to both of you.