Tall, lean and muscular, it's hard to believe that Alexander Mueller,34, who trains clients in London, once gorged so heavily on junk food that he became three stone overweight. Our Sponsorship-Team member
Agata speaks to him about his transformation from a heavily overweight couch potato to becoming "Britain's Hottest Body".
How did you get into sport? Have you always been "a sporty type"?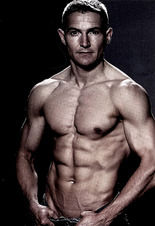 Actually I have never been a sporty type and I was never good at sport at school. The only thing I always enjoyed was doing weights which is still my No.1 activity.
Do you have any role models? Who has been your greatest motivation?
Me and my friends just loved watching Sylvester Stallone in his Rocky and Rambo films. I think his physique was an inspiration to us and so we started doing weights. We didn't know that he was only about 5 foot tall :)
What is you biggest achievement?
My biggest achievement is probably transforming my lifestyle and consequently my physique. I managed to go from a lazy and heavily overweight teenager to winning the "Muscle&Fitness Hottest Body Competition". It was not easy and took some time and dedication but if I can do it everybody can. During that time I reduced my bodyfat from 29% to about 6% and my eating habits changed completely.
As a close second ranks giving up a secure and well paid job as an Auditor in a big corporation to follow my passion for sport and become a Personal Trainer.
I'm also proud of my business degree, which I got after studying Business Management at University in Germany.
What do you like the most about your sport?
The fact that you don't have to be a sporty person, that you can change your physique entirely and that you can always make progress. No matter how old you are or which shape you are in weight training will almost instantly benefit you. No other sport can do that much for your looks and appearance.
What is your training routine?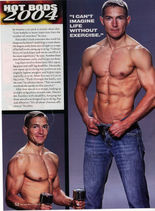 I weight train three times a week for about an hour and I also do 3-5 cardio sessions a week to keep my body fat under control.
On Monday I do chest, shoulders and triceps
On Wednesday I do back, biceps and abs
On Friday I do legs and calves
For cardio I usually do Cross-Trainer or Rower on fairly low intensity but longer duration which I found works best for burning fat without losing too much muscle.
What supplements are you taking at the moment?

I take a multivitamin [Multi_Protector], essential fatty acids, protein powder Mega Soy, glutamate and sometimes Creatine [Explosive Creatine]. Alex is also trying out Sculpt at the moment to maintain muscle and lose fat.
How do they help you?
The multivitamin and essential fatty acids are good for overall health and strengthen my immune system. The protein powder is a very convenient way of meeting my protein needs. Glutamate and Creatine help me to train harder and to recover faster.
When you decided to use your knowledge and become a Personal Trainer can you remember how you got started and was it difficult to get into?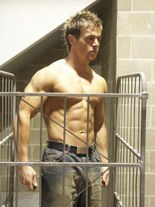 It wasn't too difficult actually. I had already a sound knowledge base before I qualified and I don't have a problem with speaking to people. Many young Personal Trainers underestimate the importance of having good people skills in this business. You can be the most knowledgeable person with the best programmes but unless you are also a good communicator with lots of interpersonal skills you will have a hard time to make a living. It is important to be able to adapt to different characters as every client is different.
Do you train specific types of people such as just women, men or professionals?
I have a huge variety of clients ranging from 18 year old male who wants to put on muscle to 64 year old female who would like to be fitter and lose some weight. Every client is different and needs a different approach to get the most out of the sessions. I love to work with a variety of people. That keeps things interesting and challenging.
Would you say you are a tough trainer from the start or prefer a more gradual process? How do you motivate people to carry on after their first session?
I can certainly be tough but for most of my clients I don't have to. They respond better to a softer more educational approach and once they see the progress they are motivated to carry on.
In general, how would you encourage people to care more about their fitness and well-being?
People have to realize, that keeping fit not only benefits themselves but also the ones they love like family and friends. You can only look after your beloved ones when you are fit, strong and healthy. Otherwise you might be just a burden to them or at least an embarrassment.
What would you say are the most important do's and dont's with training?
There are also so many people who would love to be active and move around but cant. Disabled or elderly people for instance. They would pay all the money in the world to get their health back. Being healthy and able to do sports is a blessing and not a burden.
We should never forget this!!!!
Most important do's and don'ts with training.
Do: Warm up properly
Follow a well-balanced program
Use proper form
Drink enough water
Eat properly. Nutrition is 80% of the game

Don't: Over-train. Your muscle needs time to rest and recover
Train for longer than 1 hour per session
Try to impress by using too much weight
Forget to work your core muscles
Forget to stretch afterwards
What will be your next competition?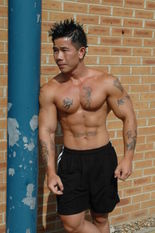 At this stage I'm very busy with personal training so I haven't really thought about entering a competition. Maybe later on in the year.
How do you motivate yourself on a daily basis?
Seeing my clients getting results and making a difference to their lives is the best motivation for me. Being a Personal Trainer can be very rewarding as you can really see the fruits of your labour. I love my job and the people I work with and I truly enjoy every single day.
Is there anything else you'd like to add?
Your body is the epicentre of your universe. You go nowhere without it. It is truly the temple of your mind and your soul. If it is sagging, softening and aging rapidly, other aspects of your life will soon follow suit.
To live life to the full you need a strong and healthy body. So eat well, train well and look after yourself.
Good luck
Alex
Alex would be happy to hear from anybody who would like to get in shape but don't know where to start or feel that they need a gentle push.
He can be emailed on: muellerali@aol.com