Profile by Michael Phillips
Ian Munro has only competed three times and it is to his great credit that he has been successful three times, with his last showing at the NPA Welsh Championships his best yet. He appeared on stage at Porthcawl in tremendous shape! Its not often we see such a tall man with such an impressive physique, but there is no doubt Ian possesses such a physique. Excellent shape, wide shoulders, superb abdominals, with big, separated thighs and hamstrings, and near faultless condition. Add a perfect tan, and you have Ian winning the NPA Welsh Overall title in convincing fashion. His success there has led to this profile, which tells you a bit more about the big man from Gwent, and which will be featured on at least three web-sites and in The Beef magazine. Currently in hard training for both the BNBF and NPA British Finals, he has also been signed up as a sponsored athlete by LA Muscle, so things are going well for Ian Munro. Read on and find out more…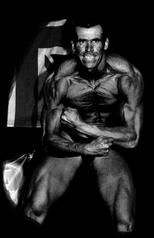 Age - 31
Height - 6ft 3"
Weight – at contests and out of season - 88kg on, 98kg off Family
- Girlfriend Jayne and Daughter Abigail 11
Occupation - Civil Servant
Qualifications - YMCA Central Fitness Instructor and Circuit Trainer, also currently studying a Premier Qualification as a Sport Nutrition Advisor
Training gym - Intrim Fitness, at Tredegar in Gwent, South Wales
MJP - How long have you been training, Ian, and do you have a training partner?
IM - Four years with weights, and for the last couple of years I have been training with Gerwyn Williams. With his support and encouragement I have made the most gains. He's very strong and pushes me hard, so the training's really good.
MJP - Why did you take up weight training?
IM - After a split in a relationship I had been in for 8 years, I was overweight, even though I played some football. I didn't like the way I looked and I was lethargic and unhappy at 17 ½ stone without having ever lifted a weight. So I decided lose some weight and virtually locked myself in the gym doing lots of cardio until I got down to 12 stones, but I also looked very ill! So I decided to get a weights plan and I listened to a lot of gym talk on what not to do and what to do. It seemed everybody knew what was best for me. After wasting 2 years on light weights and mostly machines I toned up nicely but had no base for a good physique, as I overtrained. I was very lean, but wanted to build some mass, so I then began to train smart, utilising more compound exercises, and then, finally, I began to get some results.
MJP - What was your physique like when you started?
IM - I was tall and thin through most of the nineties, until I piled on bodyweight from '95 to '98. Then I was overweight until reaching an all time thin in 1999!
MJP - Do you do any other sports?
IM – Well, as I said, I used to play and manage a football team, but it wasn't going hand in hand with the bodybuilding lifestyle I wanted to lead.
MJP - What sort of training do you follow?…i.e. high or low rep, to failure, etc…talk about your training a bit.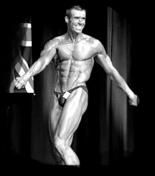 IM - I try to stay around 6-8 reps and include a lot of basic movements like military press, dead lifts, bench press and squats, which I will never enjoy. Smaller muscle groups I train at the 10-rep mark. I only train to failure once every few weeks. I feel I could easily overtrain and due to my shape being an ectomorph. I think my rest is important, even though I don't get enough.
MJP - How often do you train?
IM - 4 days per week and 2 cardio sessions, although I change my cardio plan about 6-8 weeks out.
MJP - What sort of split?
IM - Mon-legs, Tues-off, Wed-back and biceps, Thurs-chest and triceps, and Fri-shoulders. Sat and Sun off, unless competing.
MJP - List a few training poundages and singles if you do them.
IM - I usually dead-lift with sets building up to 450lb and squat 350lb but my bench press is not so good at around 260lb. I think it's important that you are putting maximum effort into the exercise and not cheating yourself rather than going for huge poundages with bad form. So I make sure my form is good - I don't like the ego thing.
MJP - What or who encouraged you to compete?
IM - I was training at Intrim Fitness, with a lot by friends encouraging me, so it was just a matter of time because I wanted to get something back out of all the hard work I had put in. I only intended doing one show which was 2003 ANB Welsh Novice, and I feared I would look stupid against other Natural Bodybuilders.
MJP - When and where was your first contest?
IM - It was the ANB Wales at Porthcawl August 17th 2003.
MJP – What were your thoughts and feelings afterwards?
IM – Well, as you know, I won the Novice class and I was shocked and quite emotional afterwards, because none of my family understood the severe diet and regime I was under as it was all new to them as well as myself. I trained for that show out of fear for not knowing what to expect from the other competitors. I felt that no matter how hard I trained or dieted it wasn't going to be good enough. I put myself through it psychologically as well as physically.
MJP - What do your family think about your training, the dedication required, and now the success you've had?
IM - All my family and friends have been very supportive and they admire my dedication when at first they thought I was a bit extreme with the detail to diet. Through all the training for these shows Jayne and Gerwyn have remained honest when giving their opinion, which is important to me. Up until now I have also been taking consultations with my dietician Jon Williams from Optimum Nutrition, and he has always given me top advice. The success I have had in such a small space of time is surreal and I have not had chance to enjoy the two titles I have won this year, because now I am just concentrating on the British Finals, and I am going there just to enjoy the occasion if I can because I have respect for the other competitors and I know I cannot expect to be at their level just yet.
MJP - List your contest history.
IM - ANB Welsh Novice Champion 2003; BNBF Heavyweight over 80kg Champion 2004 (Aylesbury); NPA Welsh Heavyweight 78kg+ and Overall Champion 2004.
MJP – Ian, you competed in NPA and BNBF contests within a couple of weeks of each other – how did you feel up to the contests and afterwards?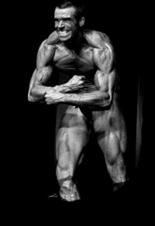 IM - I targeted the BNBF show as my main show and the NPA Welsh would be a bonus if I could manage it. I was going fine up until the Wednesday before the show and I was advised to increase my carb intake. The day before the show I went to see my dietician and he said I was holding water. I knew I looked smooth in comparison to what I did on Wednesday, and I was devastated. I cut my water and rested Saturday night and travelled to Aylesbury with a lot of doubt in my mind. When I got there I was the smallest in my class and that didn't go well with the fact I thought I didn't look good. I am still inexperienced but I worked so hard on stage and posed through terrible cramps. When I was called out as the winner I was emotionally drained. My first reaction was that I am not going to the NPA Welsh simply because I was drained mentally and physically. I then decided I needed to get myself back to my best shape to do myself justice because I know I don't carry the most mass, and I need to be in condition. For the next 2 weeks I kept the early morning power walks going but I didn't carb up at all for the NPA Welsh. I went in on about 80-100g carbs per day. This came from oats and veg. I was looking back tight and dry and was a lot calmer about meeting Leigh Hadnutt who came a close 2nd to me at the Novices the year before. When I came through this tough class I felt quite tearful because I spent so much money and took out a second job at my gym to help me finance these shows. I am working about 60 hours per week starting out at 5am and getting to bed at 11pm. This took its toll on me and I have neglected the people around me like my daughter and girlfriend. When the Overall came I didn't think I would get it because I didn't see much of the other class winners because I was backstage worrying. Then when I walked on I started to think "well, if I won my class, which was tough, I could be in with a shout". I gave it everything and came out on top and it was too much for me, that's why my legs gave way and I fell to my knees because it meant so much to me.
MJP - You were drug tested at the BNBF contest – what were your thoughts on that?
IM - It was fine, but I was dehydrated and I couldn't give a sample for about an hour which was funny but frustrating. It was conducted in a professional manner; it was the first time I had been tested. We must all be on the same playing field, so I'm all for the testing, of course.
MJP - Out of respect to the BNBF test, the NPA decided not to test you at the Welsh contest – did you agree with that, the point being that you had passed the BNBF test, so the NPA could test another competitor at the Welsh.
IM - Definitely. If I had failed the BNBF test then it would go without saying that it would apply with the NPA. When I was taken back to the test room , the situation was explained very clearly, and I thought it was very professional of them. The NPA are in my opinion very clear on their intentions and its nice to see them put into place.
MJP - What are your thoughts on the current state of affairs in the Natural BB movement in the UK now, with the NPA and BNBF?
IM - I think if you are a Natural Bodybuilder you should be Natural for Life, not just for ex amount of years. I have now competed in both federations and I think they're both great. The NPA really have set their stall out in comparison to my first ANB show I competed in, so it's moving in the right direction. There is no reason why both federations cannot work in harmony to promote Natural Bodybuilding.
MJP - The NPA is here to stay, and was borne out of the ANB. Within 4 months well over 100 members have joined, drug testing went on at the Welsh and will do so at all qualifiers, the NPA web-site is up and running…in other words we are doing very well. As an ANB Champion from last year how do you feel about the changes that's come about this year?
IM - These are huge and exciting changes of which I support. I spent time looking for information on the Internet last year about the ANB, but to no avail, where as now I can freely look and get updates from people who have put a great deal of effort into creating it. I feel more involved with it all now and I am trying to get friends to enter Natural shows.
MJP - You also won the ANB Welsh Novice last year – why did you not do the Britain Final?
IM - There were two reasons. First was that I had spent so much money that I couldn't afford to continue without any backing and secondly but most importantly I didn't think I was good enough. I was inexperienced and intimidated by the thought of meeting guys who were so much better than me. It has a lot to do with remaining positive and trying to believe in yourself. I have found that aspect hard to overcome. It also put a lot of strain on my family because they didn't understand what it was all about, even though my family would have backed me because they know its what I live for.
MJP - You are intending to compete in both NPA and BNBF Britain Finals this year; what are your thoughts, hopes and ambitions for these two shows?
IM - My thoughts are that these shows are going to be a bridge too far for me because I have respect for these guys who are on a different level. I will give them my best shot and try to enjoy myself and the occasion. I am trying to install some belief in myself with the fact that I qualified on merit and I deserve to be there. I would love to cap the year off with a top 4 placing in my class but we will have to see. Right now my ambition is to get to these Finals and give my family something to be proud of again.
MJP - You were in great shape winning the NPA Welsh…talk through your preparations in the weeks leading up to the contest, i.e. mental preparation, the diet, work and the diet, your family participation and the role they played in your success, the training side, any aerobics or cardio, etc…everything…just talk freely and naturally through it all…
IM - After the show at Aylesbury I needed to tighten up again, so I was following a plan around the following:
4:30am - wake up!
5am-6am - cardio in the form of power walking
7am-3: 30pm - work
3:45pm-5pm - train with weights
5pm-9pm - work at gym
9:30-10:30pm - prepare food for next day
11pm - bed
7am - I will have 60g oats with water and 2 scoops whey
10am - 200g chicken breast
1pm - 200g chicken breast mixed veg
5pm - banana and whey isolate, followed 20min later by tuna salad
9pm - 200g chicken breast or whey
The supplements I use are:
Hmb Creatine
Glutamate
Zma
Amino acids
Whey isolate
Udos oil
I started dieting in April and I have been ever since because these shows are too close to come off my diet, so I feel pretty lethargic and weak at the moment. I am trying to rely on good condition again as it has got me results in the past. I realise some of these competitors are going to be bigger but its an obstacle I have to overcome mentally.
MJP - How did you feel after winning the Welsh, the following few days, any coverage in the local press, tv, for example?
IM - I felt relieved more than anything so I booked Jayne and myself to a posh hotel for the night and intended coming off my diet for 2 weeks. We had a great night and I wanted to show my appreciation to her for putting up with me. Anyway I ended up eating so much food that I was sick and then ill for 2 days after. I went straight back on a competition diet and I have been since. By the time the Finals are over I would have been dieting for about 7 months. I have had coverage in a local paper but no such luck with TV [not even crimewatch!]
MJP – You have recently earned, with your success, sponsorship from LA Muscle, who are one of the biggest companies in the UK and sponsor a lot of bodybuilding shows, including the ones promoted by the NPA and BNBF. Tell how your sponsorship came about.
IM – Well, first I read on the LA Muscle web-site, that you can get sponsored if you were doing well in your chosen sport, so I decided to contact them. I sent some info and a couple of pics of myself and what my plans are for the next couple of years. They granted me a level 2 sponsorship which will allow me to have a big discount off their supplements. I am delighted about it and it also gets me publicity on their web-site, as I'm featured alongside other sponsored athletes and Champions. I also have a generous sponsorship from Intrim Fitness to get me to the Finals and also a local sport shop have donated some kit, along with a local butcher donating some free chicken breasts for 4 weeks up to the show. These are fantastic gestures of which I am so grateful. I would like to thank them for the help; it has made things less stressful.
MJP – Ian, you're a regular on the Jason Rickaby's UK Muscle web-site Forum, and it seems to me that the contributors on there have helped you regarding the mental aspect of contest prep. Is that a fair comment, as sometimes you sound a bit down with it all!
IM – Michael, to be honest, Jason's Forum is a god send because I feel that I am so much out of the way here in Ebbw Vale, so when I go on-line and talk to others who are also struggling with their diet etc…I find it very helpful and encouraging. The other competitors on-line all seem to know each other, which is good. As I have really struggled at times with the contest prep, since using the Forum the others have helped me with invaluable advice and given great support, so to people like Jason and his regulars contributors like Tony Montalbano, I am very grateful. I hope to meet a lot more friends through the Forum because meeting people like Jon Bibb and Dave Harper has been a pleasure.
MJP - The use of drugs in bodybuilding is widespread….what are your thoughts on this? The NPA and BNBF will be doing their best to keep this great sport of ours clean – what would you like to see in Natural BB in the UK in terms of keeping the sport clean?
IM - In my opinion it's all got out of control. Gone are the quality physiques and they are being replaced by freaks of nature. Drugs are rife in the South Wales valleys and it seems as if its increasing amongst young people who want results in a short space of time, and are not prepared to earn it. I hope that young people from my area can emulate some of my progress. Drugs are here and as long as they stay where they and everyone is on the same playing field then that's all we can hope for. I am pleased to see the NPA and BNBF testing at their shows, as it gives me the inspiration to be the best I can be in the knowledge that I am up against good honest athletes who have dieted and trained so hard just to get there. In terms of the future both federations are taking good steps to give athletes assurance and it's working well.
MJP - Have you ever considered taking drugs and what do you think of the BB's who take/have taken drugs and then compete in Natural contests? No names, but do you know of anybody who has taken gear and then competed as a 'Natural'?
IM - I have never contemplated taking drugs for one simple reason. Before I started bodybuilding I was a keen footballer who played at a high standard so I enjoyed the fact I was very fit and healthy. The side affects of drugs for me are too much of a gamble, besides I have a daughter I want to see grow up. I also get more respect for what I am trying to achieve in life from family and genuine friends, and that means more to me. On the down side I have had information of a bodybuilder who competed this year who has not always been natural. As far as these rumours are concerned I am not aware that they are 100% true, but he obviously thought he could dodge it somehow, but the question is, if he had won he would have failed anyway. Besides, the amusing thing is he didn't even come second. I am sure you can't substitute good honest work for anything.
MJP - What would you like to see regarding the promotion of Natural BB in the UK?
IM - I would like to see more bodybuilding clubs held in the South Wales area, and also the magazines that cover our shows should be more accessible because I have trouble getting copies, so I think its got to be put in peoples faces more and we can be proud of what we do because unfortunately we all get tarred with the same brush when there couldn't be more of a difference between one sport.
MJP - Who are your favourite physiques?
IM - I like physiques like Nigel Davis, Mike Williams and Rob Hope. There are also other bodybuilders who I respect like Tony Montalbano, Dean Garrett and Jason Rickaby.
MJP - Do you or have you had a coach/mentor?
IM - I have a good training partner Gerwyn who has remained honest and clear through all what we have tried to achieve, because when you are dieting for such a long time thing tend to get a little cloudy.
MJP - As you walked on stage at the Welsh in what was a tough 6 man line up you knew you were in good shape but did you think you'd win your class and then the Overall?
IM - I knew for a long time that Leigh Hadnutt was competing and he always gives me a run for my money so I was very nervous of him and he is a great guy, so I knew it would be tough. Also there was a little bit of hype surrounding another competitor who had won the overall 2 yrs earlier. I felt a bit more relaxed than the Aylesbury show because in my opinion I was a lot sharper. I didn't think that I would win my class because after seeing the rest of the show for me the heavies was the class with the most even layout of competitors so I knew I had to work for it. In my mind I always try to see myself get a third so I get something back in return for my efforts so when they called 4th place out I sort of knew I was guaranteed a 3rd place. When 3rd was called and it wasn't me I gave the thumbs up to my family, then it dawned on me that it was down to myself and Lee. As soon as his name was called I was absolutely over the moon and also very exhausted as I thought we all worked very hard in the comparisons. Every time I have been in the overall I have never even believed I could win because the standard throughout has always been very high, but I then realised that the heavyweights was the best standard of competitors so I started to believe in myself, tried to enjoy it and came through it ok even though I thought afterwards Mike Ducker, the U-70kg Champion, was excellent. Just before the callout for the Overall I could see the trophy and wondered what it would be like to receive it, and in a nutshell it made all my sacrifices worthwhile.
MJP - After winning you ended up on your knees and then your backside, as the moment hit you that after all the hard work you'd won…how did that moment feel?
IM - I just didn't know what to do with myself so the floor seemed quite appealing, just so I could indicate how much it meant to me. My first thoughts were of Jayne, my daughter and my mother and the fact that they were so proud and pleased for me because they knew it means so much.
MJP - Coverage for you personally and on the NPA Welsh Championships on the NPA web-site and in The Beef magazine next issue…who knows were it will lead…
IM - It is very exciting and it is something I can give my daughter as a keepsake. If I can ever achieve anything like Tony Montalbano has I would be happy but I realise that it takes time to build physiques like the bodybuilders I have mentioned. I am the type of person who would enjoy the coverage, and I am proud to show it off really.
MJP - Most if not all sports use some sort of weight training in their programmes – yet mention the word 'bodybuilder' and immediately Joe Public thinks of drugs instead of thinking of the Greek god statuesque physique which surely if you asked Joe Public he would like if he would click his fingers and get one. Will this attitude ever change?
IM - I don't think so because people are a bit shallow where bodybuilding is concerned because they don't understand the difference and what the NPA and the BNBF are trying to achieve, but hopefully people will be more aware of this because we are moving at a rapid pace in the right direction.
MJP - Will bodybuilding ever get into the Olympics – your thoughts – because if it ever does surely the competitors in the UK should come from the NPA?
IM - I think there is little chance of it reaching Olympic status because its one of the sports that is associated with drugs, and with that in mind there are still athletes failing tests in disciplines that are not usually associated with drugs.
MJP - Ian, as we count down to the NPA and BNBF British Finals, I want to thank-you for taking the time to put this profile together, and I want to wish you all the best in both contests – both are sure to be tough! Any last words?
IM – I want to thank everybody who has helped me get where I am today, in particular Gerwyn and Yoyo Butler. Since winning the NPA Welsh, Yoyo has been inspirational with his support. But without a doubt my biggest thanks goes to my long suffering girlfriend Jayne. She has been and is continuing to be an absolute rock, and deserves a gold medal the size of a dust bin lid! I am looking forward to the Finals and after dieting for so long, I hope to emulate the condition I was in for the Welsh. I'll give it my best!
MJP – I'm sure Ian will be in his best ever shape, and if he is, he's won!
'Nuff said.
Michael J. Phillips. September 2004.
Interview courtesy of the NPA web site. Check out Britain's newest natural body building organisation here: NPA web site.