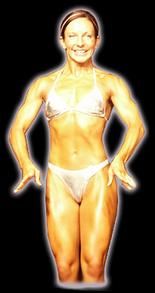 Hi, what's your full name and where do you live?
Emmalouise Bowen. I live in Leigh-on-Sea in Essex

What's been your competition record so far?
I started competing in September 2002.

A.N.B South East 2002 - 1st
A.N.B British Final 2002 - 1st
U.I.B.B.N European Championship 2002 - 2nd
B.N.B.F Central 2003 - 1st
B.N.B.F British Final 2003 - 1st

What's your background in terms of sport?
I started gymnastics at the age of 5 and competed at a national level. I have participated in a number of sports since, including rock climbing, basketball and swimming. I teach Body pump and discovered my love of weight training about 10 years ago.
What made you enter bodybuilding/fitness competitions?
I love to compete and after watching the A.N.B South east in 2001, I knew I had found my new challenge. I couldn't wait to compete the following year, but I needed some guidance. My boyfriend had had numerous conversations with Ian Duckett, so we approached him for some expert assistance. His help was invaluable to me and I am truly thankful to him for giving up his time - he is a busy man!

How do you classify yourself? Bodybuilder, Fitness?
I love to weight train and I obviously have to bodybuild to a certain degree. However, I class myself as fitness. I don't have to be as hard as the physique girls are, nor do I have to present the same style of posing as they do. In the athletic class, competitors must show a toned, balanced physique with definition. The routine requires a combination of dynamics, flexibility and strength.

Do you think anyone can enter a competition? If not, what qualities make a winner?
Anyone can enter a show, but not everyone can win a show. If somebody is willing to do the hard work, then they deserve to be on stage just like everyone else. However, you have to want to win. Looking confident is important and presentation is second to none. You can have the most amazing physique, but if you can't present it to the judges and audience you won't be receiving that 1st place trophy, even if you achieve the condition needed

Do you have a daytime job? How do you cope with normal life and competing?
I work a number of different jobs, including personal trainer and college lecturer. It can be a bit of a squeeze, but I can prioritise my training when necessary, although I sometimes wish there were more hours in a day.

Are the people around you supportive?
I am so lucky. To say my family and boyfriend are supportive would be an understatement. Not one competition goes by without one or all of them being there. I think my family and friends are finally coming around to my eating habits and are quite intrigued by this new challenge I have taken on. As for my boyfriend Marc, he has my tan down to perfection.

Has anyone influenced you? Do you get inspired by anyone?
I have to say my main inspiration in life has always been my Dad, (if he didn't know this, he does now). On another note, I have also loved Arnie from a young age!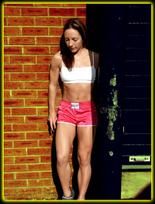 What's your diet like? What do you eat in any given day?
I must admit my appetite has never been huge, especially coming from a gymnastic background. After several years of trial and error and with the help of Marc, we have come up with a nutrition plan that works for me.

I have 5 - 6 small snacks a day. I don't eat meat, so my meals consist of mainly fish vegetables, fruit and nuts, all of which are organic wherever possible. I also use flax oil and vitamin supplements and a cup of coffee whenever I can, which, in case you hadn't guessed, I adore.

Do you change anything for competitions?
Nutrition wise, I don't change much. I don't have to drop much weight, so I just cut out dairy and any treats, I may have and increase my cardio.

How often do you train?
In a normal week, I train 6 times. This will consist of 2 weight training sessions, 1 Body Pump class and 4 cardio sessions. It sounds like a lot but it's only about 6 hours total exercise per week. When I'm getting ready for a show, I usually double up on the cardio at some point during my preparation. Cardio can be walking, running, cycling or the occasional class.
What are your immediate goals?
To retain my A.N.B British title.

What are your long-term goals?
To compete in America.

What do you think makes a good champion?
I think you have to love what you do. If you don't, I don't see how you can give the dedication needed to even step on stage, let alone win. I think it's also important to stay level-headed and modest when you're winning. After all you never know who's going to step on stage next to you on contest day.

Are you a natural poseur? If so, does it help?
I am a natural poseur. I had to learn the basics but my gymnastic background helped me a lot. If posing doesn't come naturally, then I highly recommend practising and practising until you feel comfortable in every pose. I love being on stage, especially performing my routine and entertaining the crowd. After my first show I knew I was meant to be on stage.

Do you find that men get intimidated by what you do?
Some are intimidated I guess, especially when they see someone as small as me with bigger muscles than them. Generally I get the comment "nice arms" or "you workout don't you?" Not very original boys!

Do they compliment you or give you a hard time?
Luckily all compliments, so far.

Has your competitive route cost you a great deal of money? Can someone compete with very little money?
It's not that expensive, but it can mount up. Good food all year round, hotels, tan, bikinis, costumes and sometimes travel. However, like most things, you can do it on a budget if you are sensible. If I get to compete in America it may be more difficult.

What supplements are you using at the moment?
Having recently been introduced to LA Muscle, there are a couple of their products I am considering and am very excited to try the Cappuccino Bioactivator protein drink. Apart from that I use a multivitamin and take essential oils.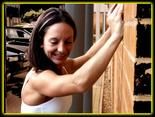 What are your views on bodybuilding/fitness competitions? Do you think they are a dying breed or are they popular?
In the UK bodybuilding receives little or no publicity so, unfortunately, most people's vision of bodybuilding shows is big muscley men in pants! They have no idea of the commitment it takes to get to the finished article, nor can they differentiate between natural and non-natural physiques. I don't think bodybuilding shows are a dying breed. The A.N.B have proven time and time again how successful a well run show can be, and now the B.N.B.F have definitely made their mark after such a successful competitive year and British final. Natural bodybuilding just needs the airtime and publicity it deserves and could definitely benefit from more funding.

Anything else you would like to add?
To all the friends I have made in the industry so far, keep working hard and it is a pleasure to be surrounded by such amazing people.

Thank you very much for taking the time for this interview Emmalouise. We wish you luck with all your future endeavours!