Friday, 11th June 2010
Introducing Intelligent Live Help
Get Instant Help & Advice from LA Muscle's Trained Advisors
LA Muscle have just launched a first in the industry: Intelligent Live Help.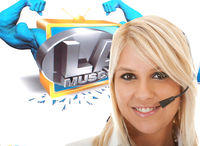 LA Muscle's Live Help on www.lamuscle.com gives you access to a whole host of trained advisors who will be able to deal with all your queries. The newly implemented intelligent system routes your query and enables your individual professional best suited to your query to come online within 20 seconds.

The system scans your query and routes you to the most suited advisor. You don't have to worry about waiting or being passed around. In 90% of cases, you will be passed on to the most suited trained advisor within 20 seconds. If you have an order query, you will be put through to a customer services advisor. If you have a technical question, you will be put through to one of the LA Muscle Trained Advisors.

You will be able to ask anything from your LA Muscle Live Help Advisor:
Product questions
LA Muscle company questions
Product combinations, cycling and what's best for what
Order queries
Specific tailored advice for your needs
LA Muscle's Intelligent Live Help can be accessed 9-5 GMT by clicking the Live Help button on the left hand side of www.lamuscle.com. Enjoy!